We helped Morgan Ryan turn 30 years of industry experience into a modern, scalable brand, after they restructured and relocating their business to Phoenix, AZ.
Morgan Ryan engaged with the Tigrett Agency to develop a new brand identity complete with brand strategy and new fully custom web experience. In addition to branding and web services, we created a library of photo and video assets to be used across all marketing channels.
Understanding The Problem




What's a public adjuster? Where can I find one?



After conducting extensive market research and interviewing key stakeholders, we determined the main challenge is — what the hell is a public adjuster? Unless you're an insurance agent, have gone through the claims process before, or suffered a natural disaster you've probably never heard the term. And if you have, there's a shroud of mystery surrounding the profession. Do they work for you or against you? Are they ambulance chasers? No by the way. And even if you do find one, you're left paralyzed with an overload of information.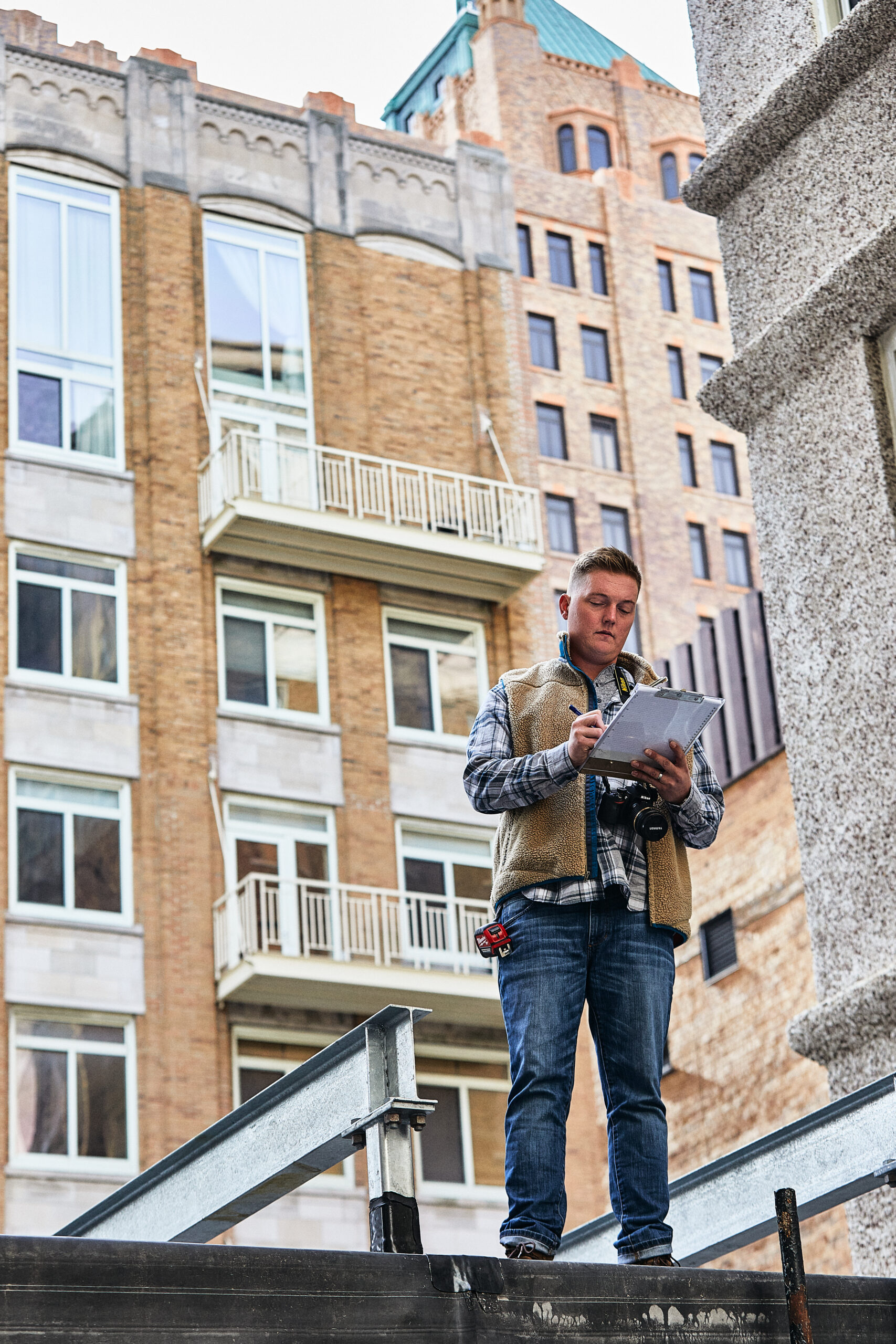 Strategy & Approach




Build a flexible and cohesive brand easily executed across all channels and tactics.



We authored a proactive, authentic mission for the brand and business: "provide insurance policy claimants the ability to regain control of their life" On this foundation, we set out to refresh the brand identity and execute a digital launch strategy for Morgan Ryan from concept through production.
Our approach aimed to position Morgan Ryan as a beacon of hope, industry leaders and experts, and a trustworthy partner through the chaotic experience of a claims event. We did this through a ground-up rebrand, complete with brand strategy and execution of all major customer touchpoints. This involved a new website as well as a full suite of print collateral utilized during the claims process.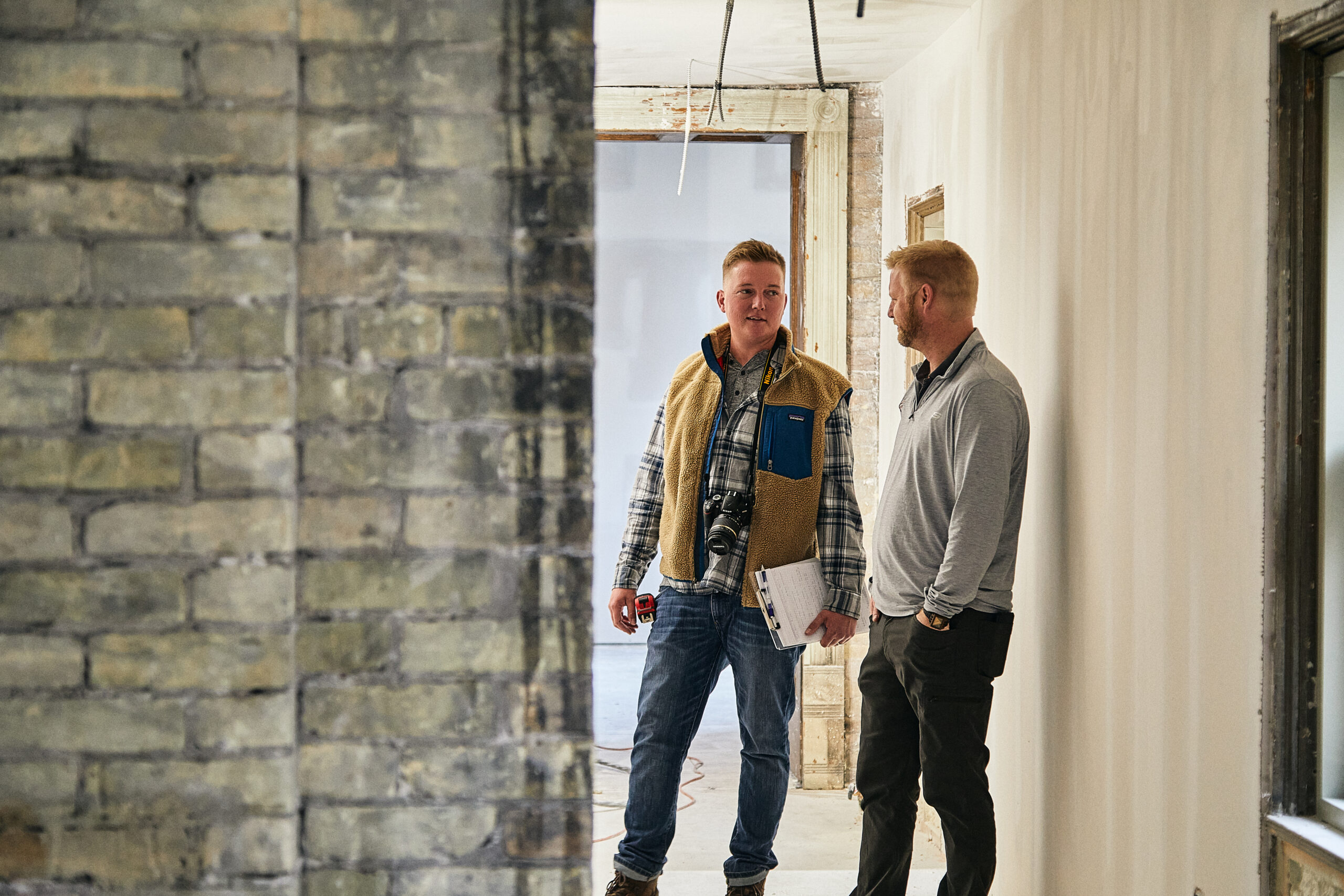 Bringing the brand to life




Starting with who, why, and where



Through a series of exercises in the strategy session, we were able to extract and refine the key pillars of the brand as well as hone in on the ideal target audience. This defined the brand's personality: how it should look, sound, and act. Morgan Ryan's brand is characterized by their trustworthiness, backed by 30+ years of expertise in the industry and a mission to bring light back into peoples live's.
Morgan Ryan serves a clientele who are experiencing a tragedy and in an emotional state. To understand the needs of these customers, we created unique user profiles to represent the range of clientele they service in the commercial and residential space. This painted a clear picture of their demographics, psychographics, needs and wants.
The Mark




Core elements to anchor a brand.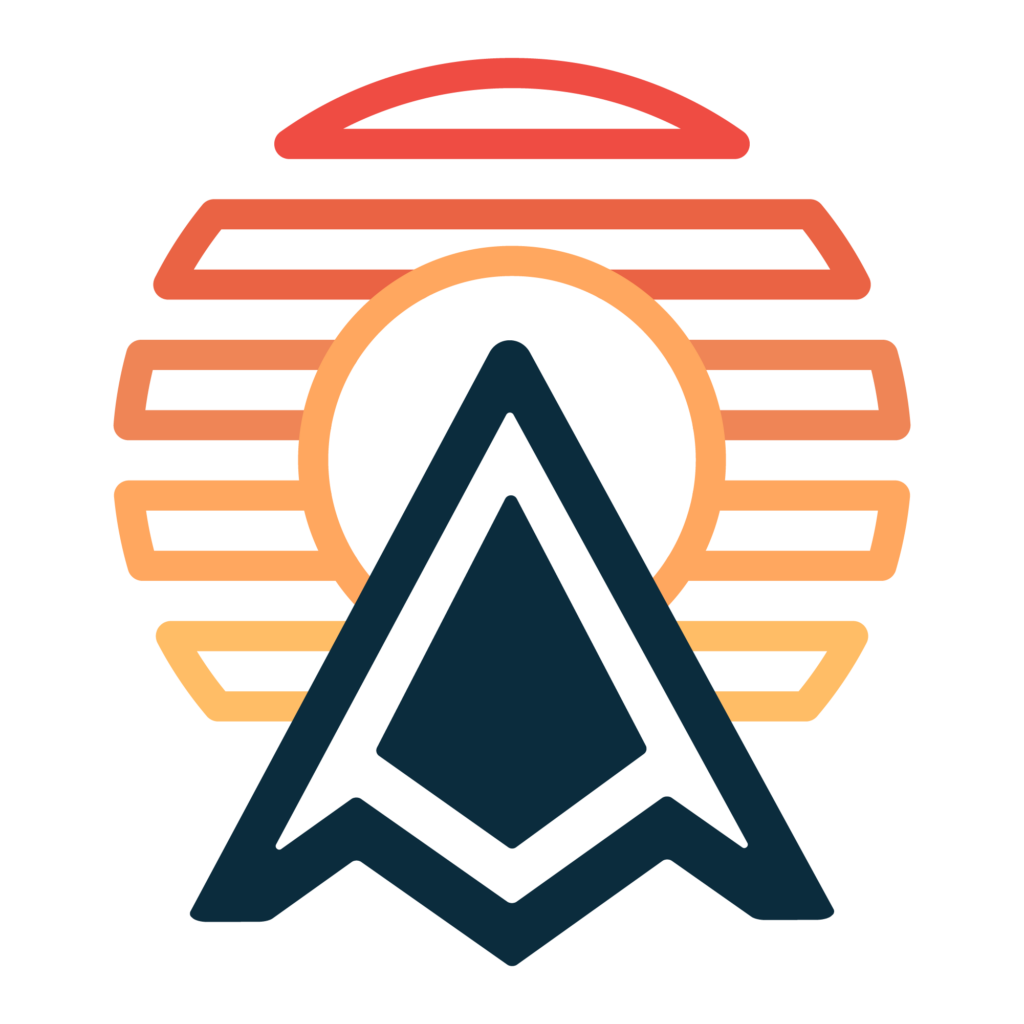 Expertise
With experience comes expertise, and this has given us the ability to navigate through the toughest most complex claims. We are proud of these experiences and our expert ability so we choose to wear it like a badge on our new logo.
The compass arrow proudly displays our ability to navigate through any and every claim, while also providing expert guidance to any business in need.
Transparency
In an industry riddled with poor ethics, we have always strived to be a beacon of hope. Everything we do is in our clients best interest. This means we are fully transparent with them throughout the entire claims process.
We display our dedication to always being transparent and ethical with the window outlined within the sun in our logo.
Hope
Nobody should feel stuck or be left without options. Whether it's a small mom and pop business or a Fortune 500 company, every claim matters, and every business deserves the opportunity to be made whole.
The rising sun in our logo is a representation of the hope we provide and the faith we restore for our clients. We consider it a privilege to help their businesses rise again.

Responsive Logo Lockups




A fit for every application



Flexibility with a logo is one of the most overlooked aspects in the design process. We made sure Morgan Ryan had the ability to be used in full with a tag line, landscape and portrait orientation, and scaled down all the way to its standalone mark.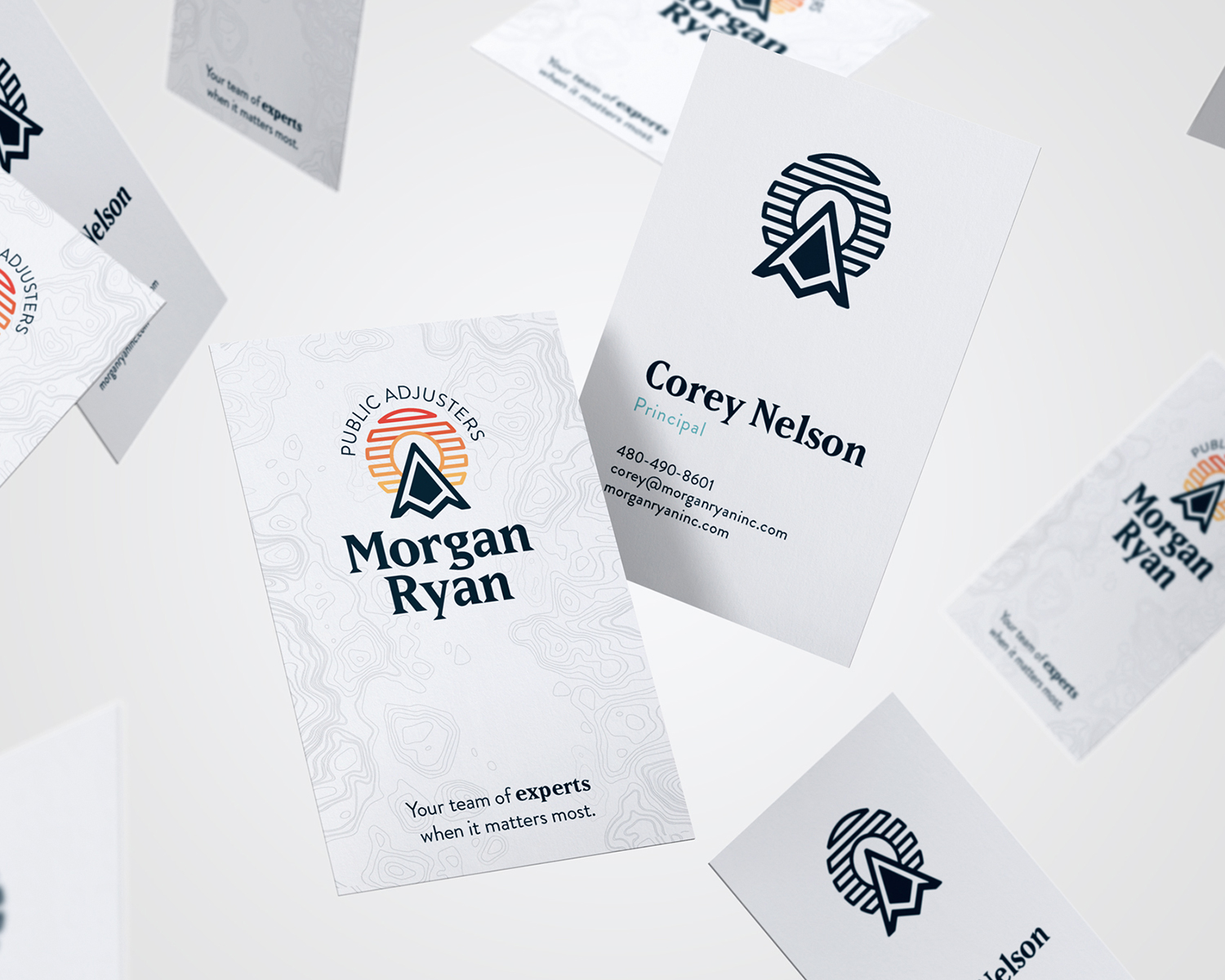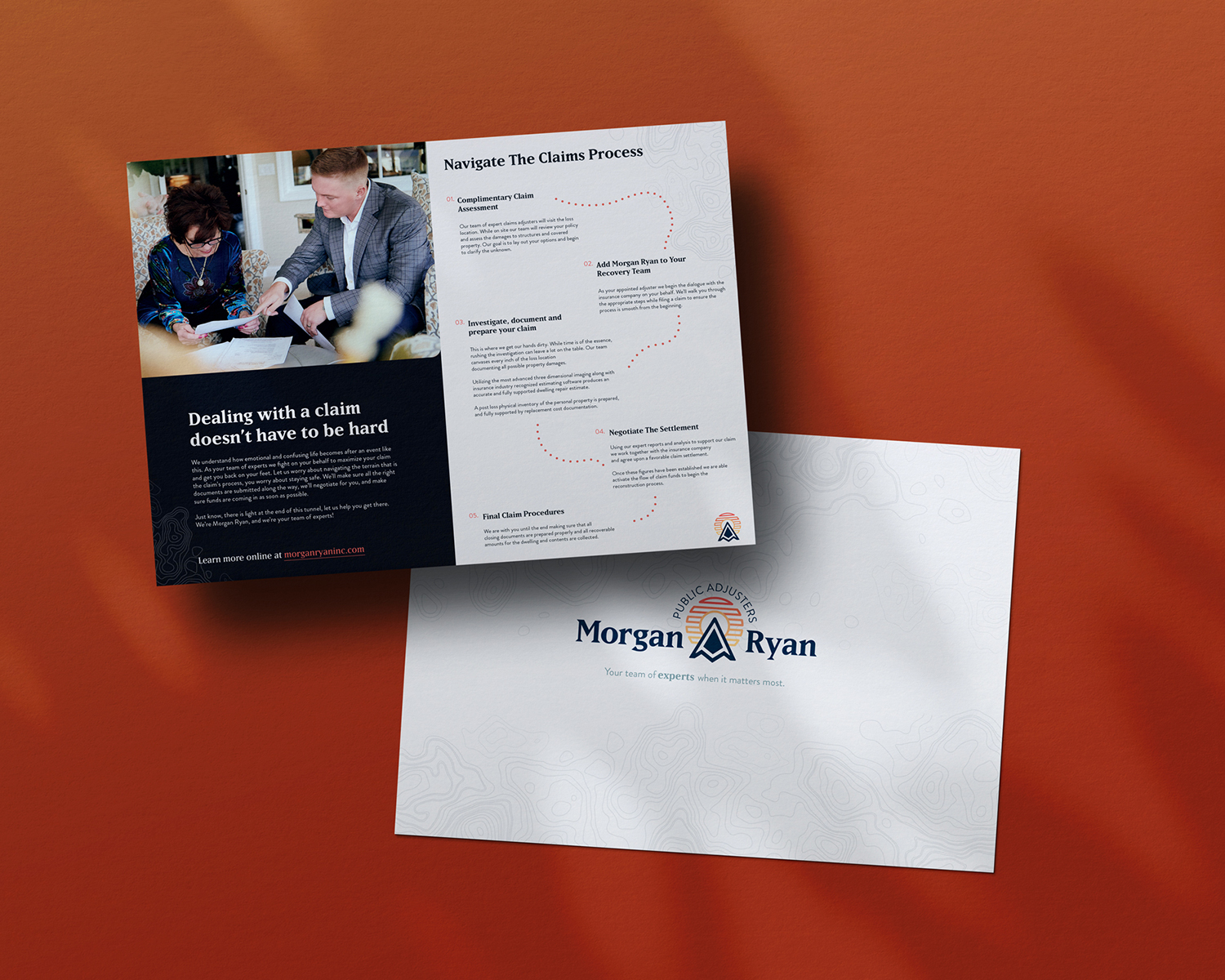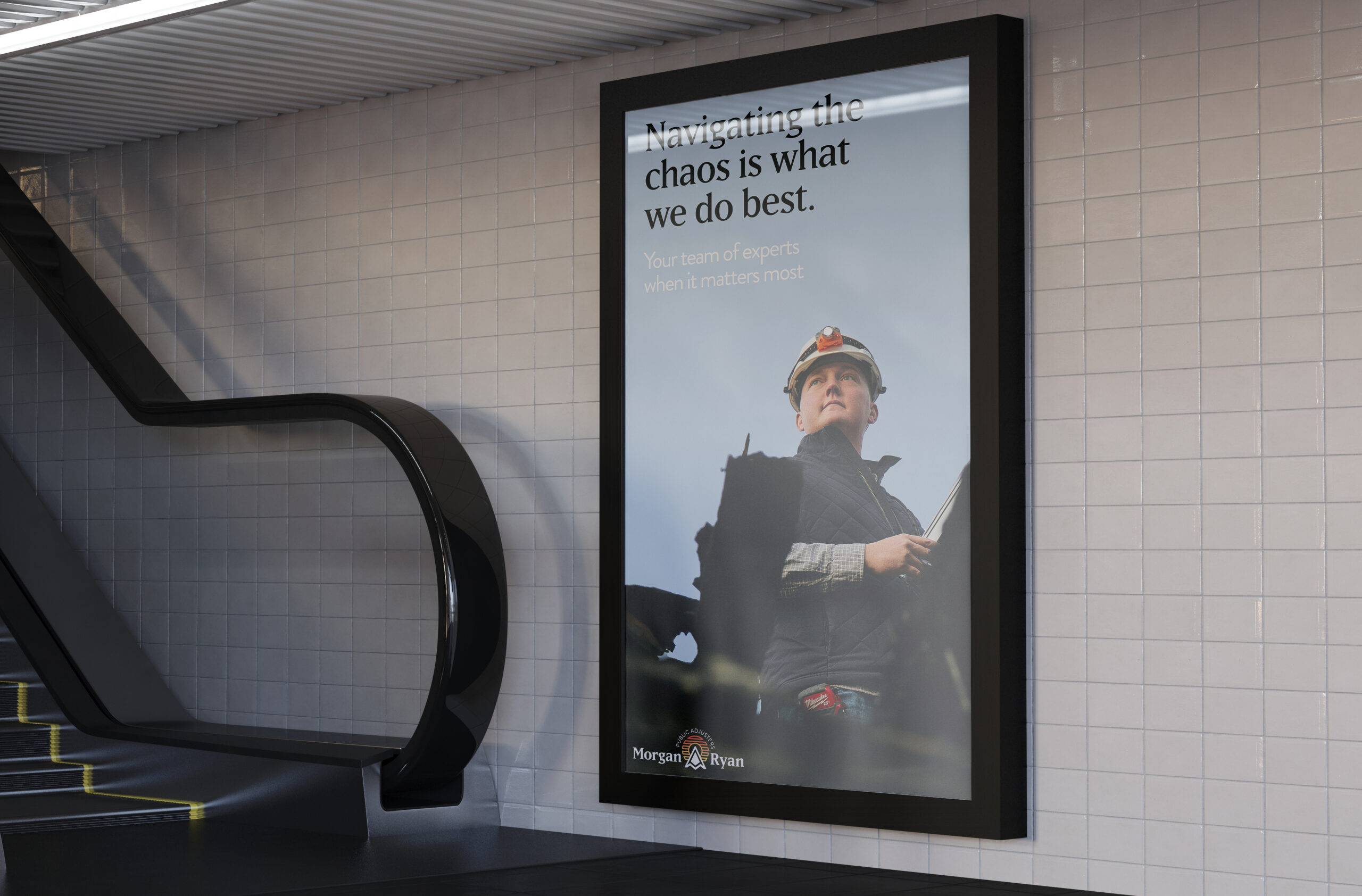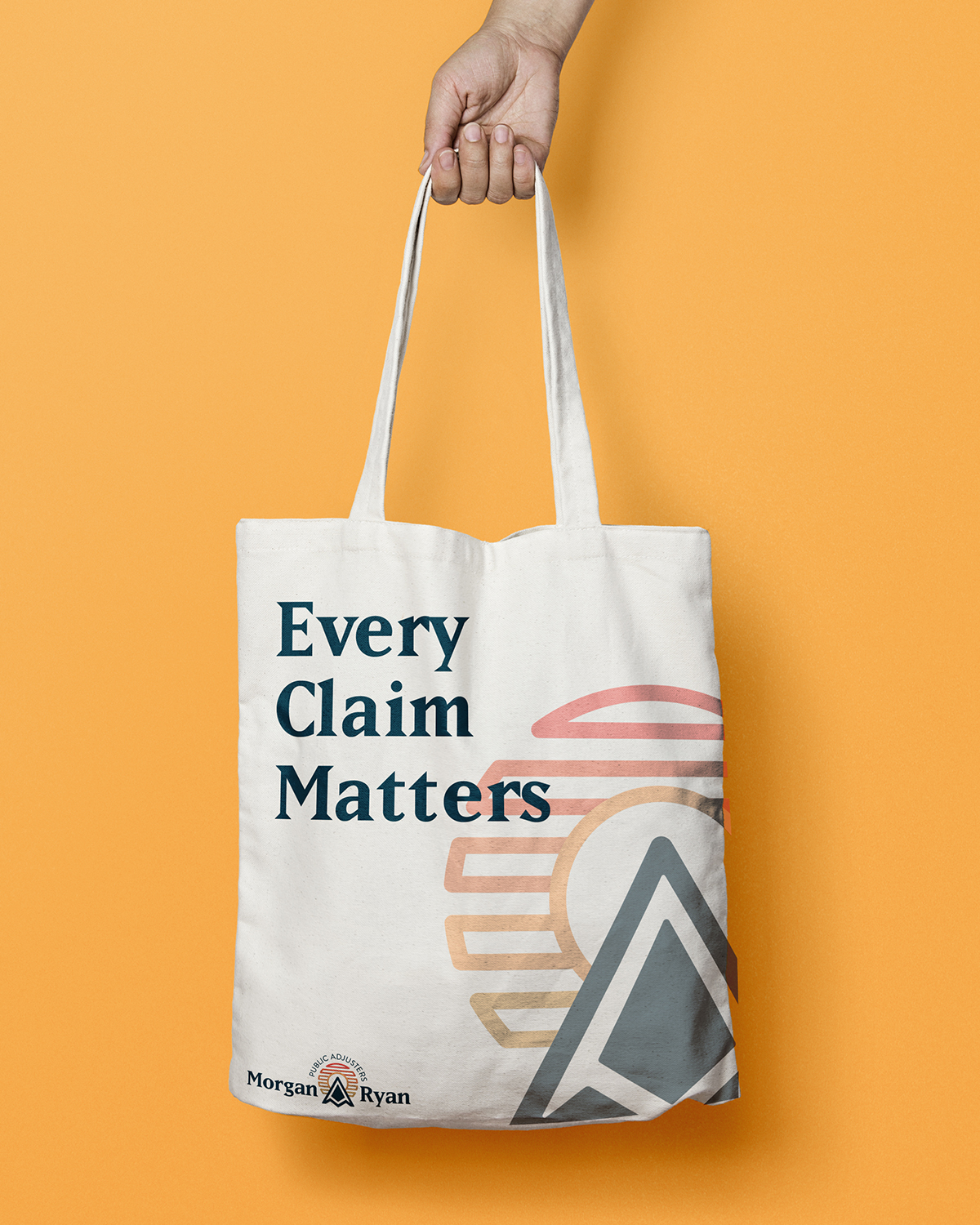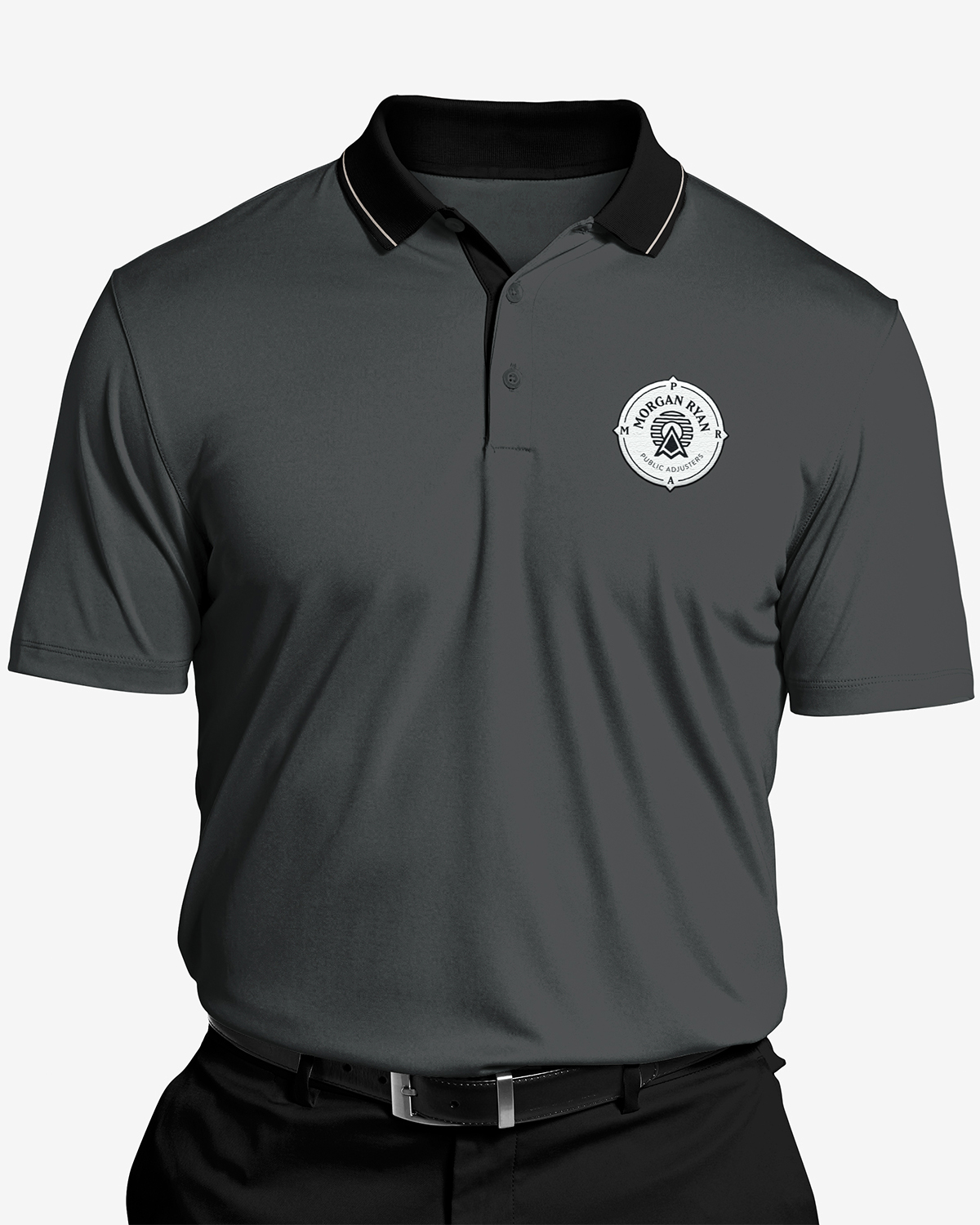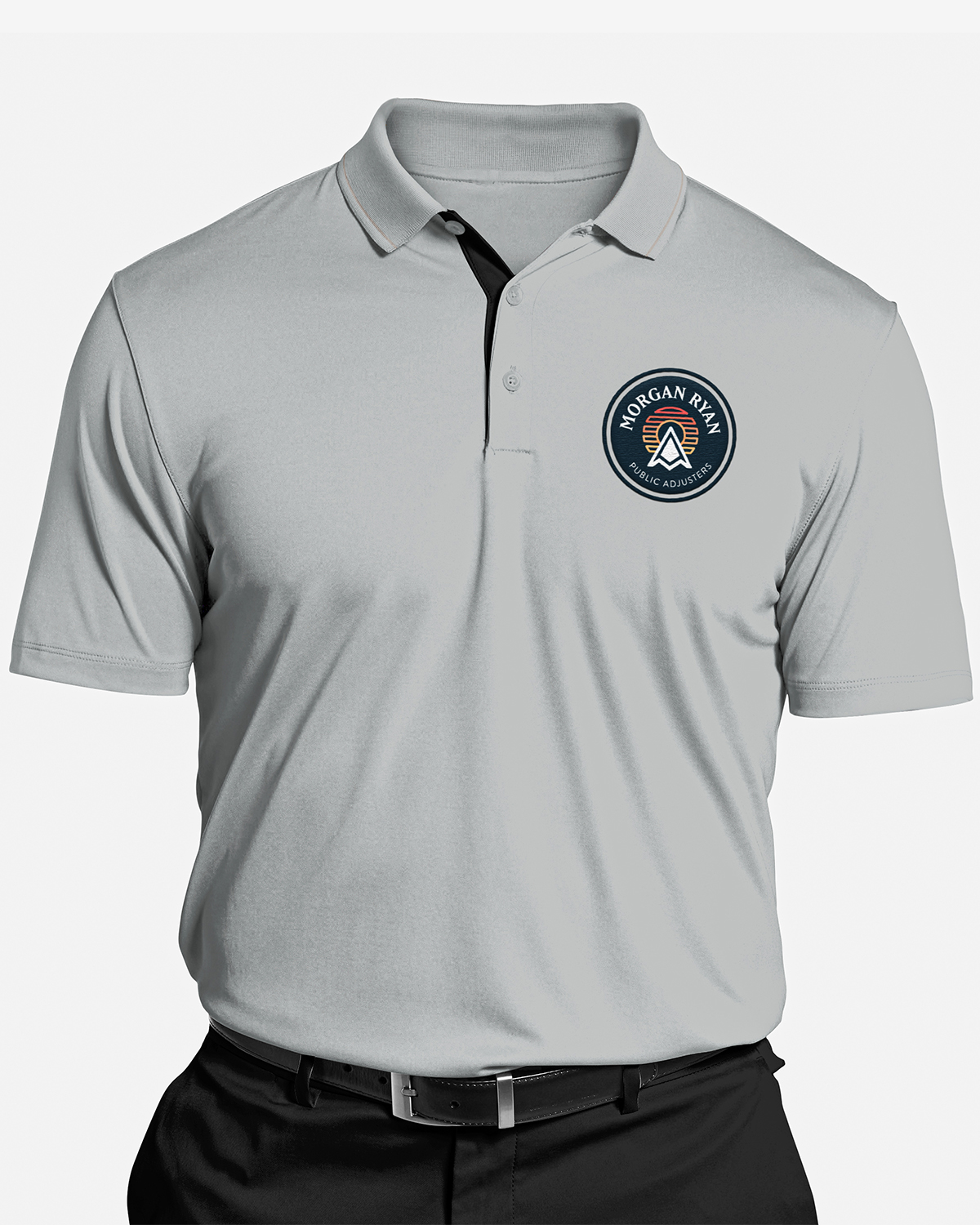 Badges


A fit for every application



There are times when you want a little more creative execution of the logo. This is where we introduced a series of various badges that could be used across multiple pieces of print and promotional collateral as well as apparel.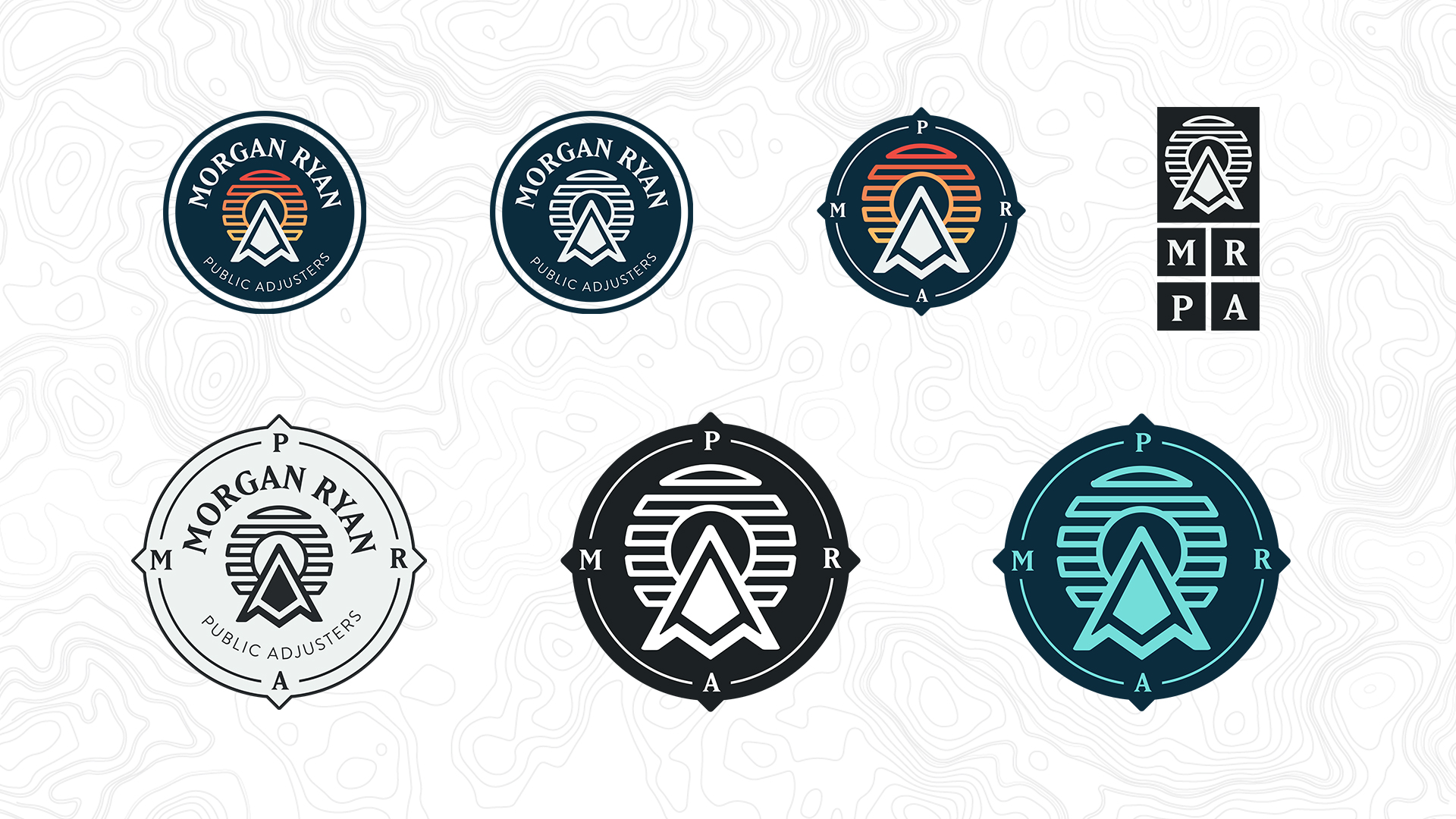 Brand Guidelines


Empowering the team to create with long term consistency



We created an all-new brand guide book consisting of a design system, design and photography guidelines, as well as a company culture manual.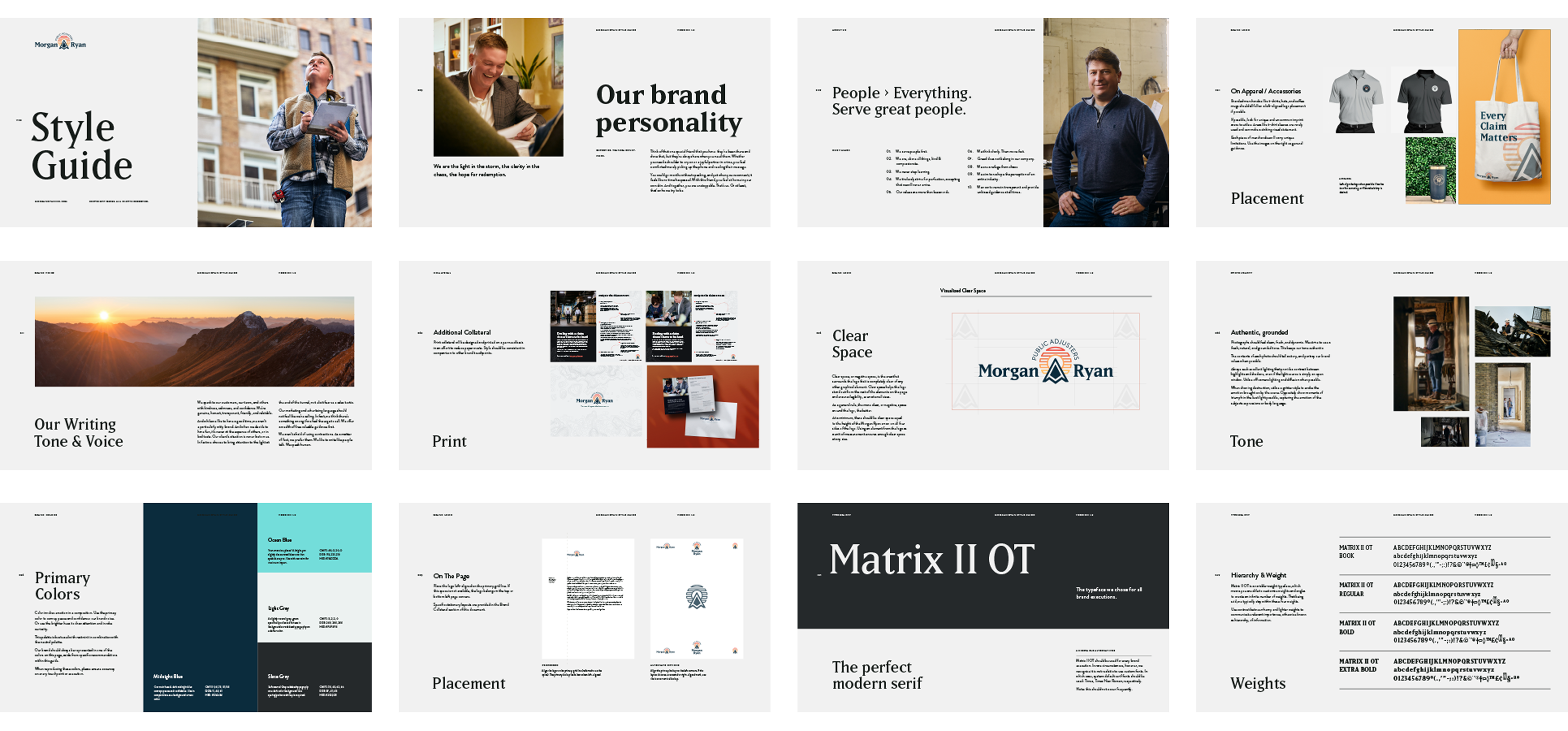 Providing insurance policy claimants the ability to regain control of their life.
Positioning




Standing out in a mysterious industry



To create something truly unique, we tapped into the brand's key differentiator: the human touch. They stand behind their tag, "Your team of experts when it matters most".
Acting as a personalized guide through the claims process our digital platform made customer experience a priority. Morgan Ryan is a public adjusting company whose advantages are its expertise, authenticity, and legacy. They go to bat for you, the policyholder, and keep you in the loop throughout the entire process.
These narratives deserved their own moments on the new site, so we set out to elevate each trait as a foundational pillar throughout the entire customer experience.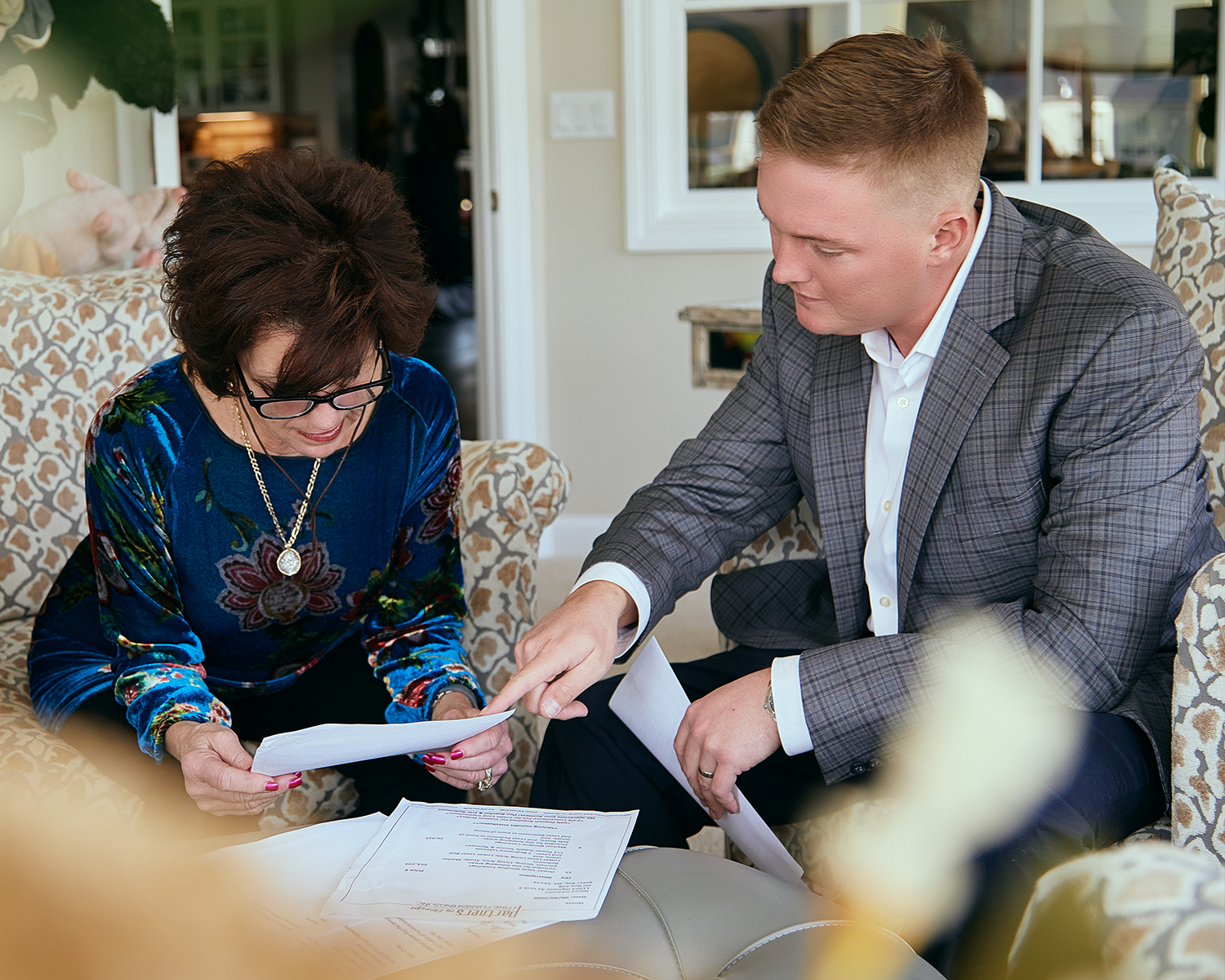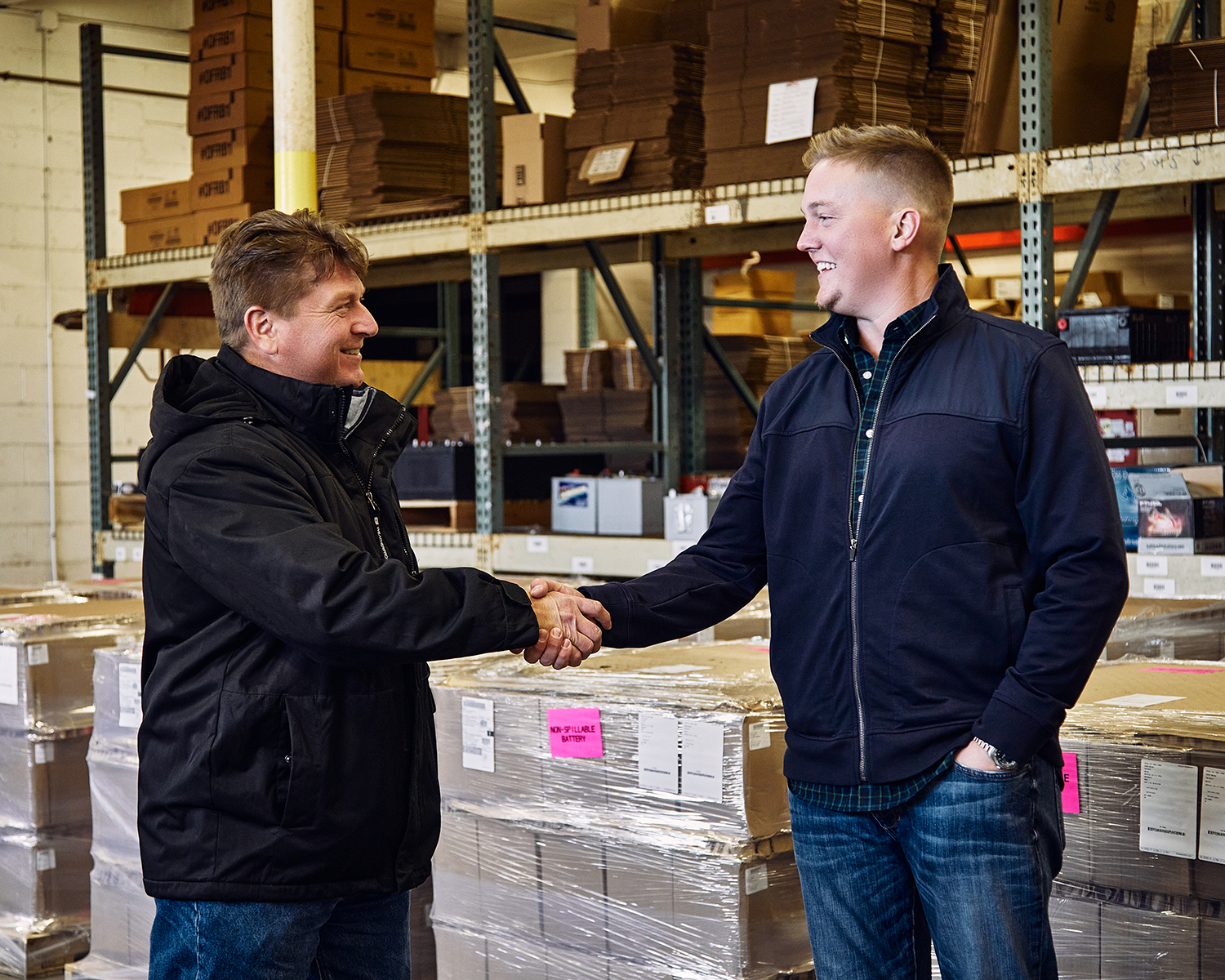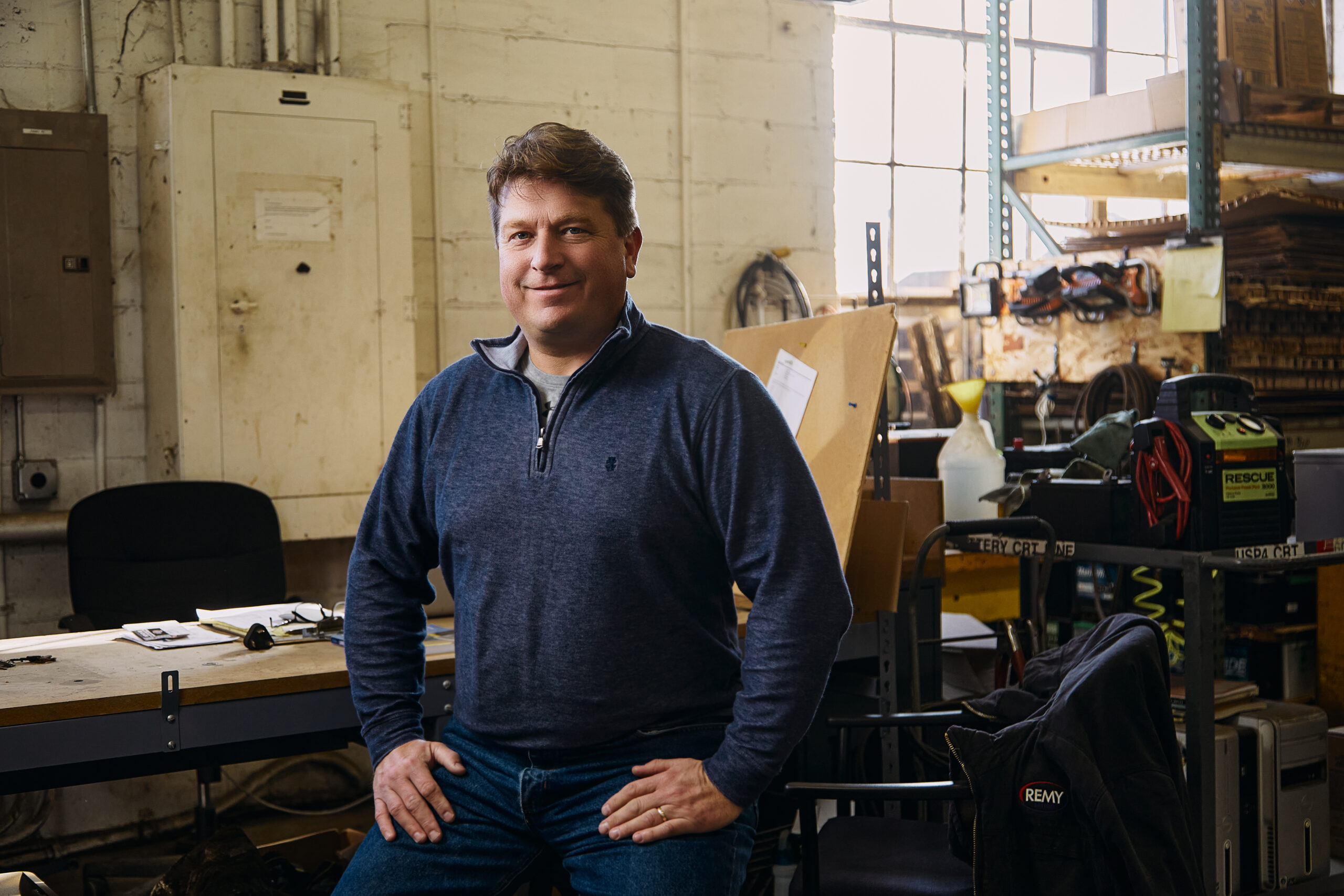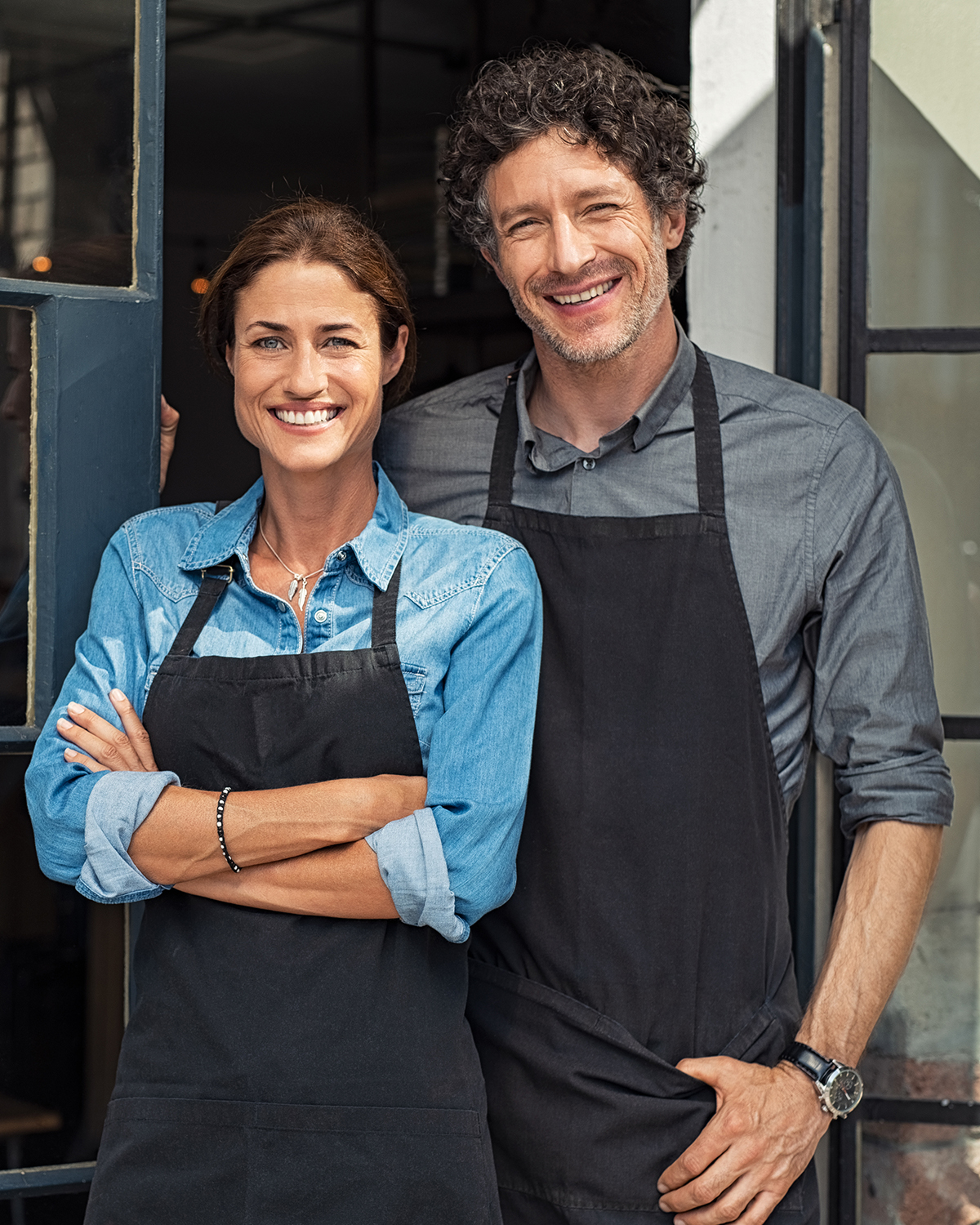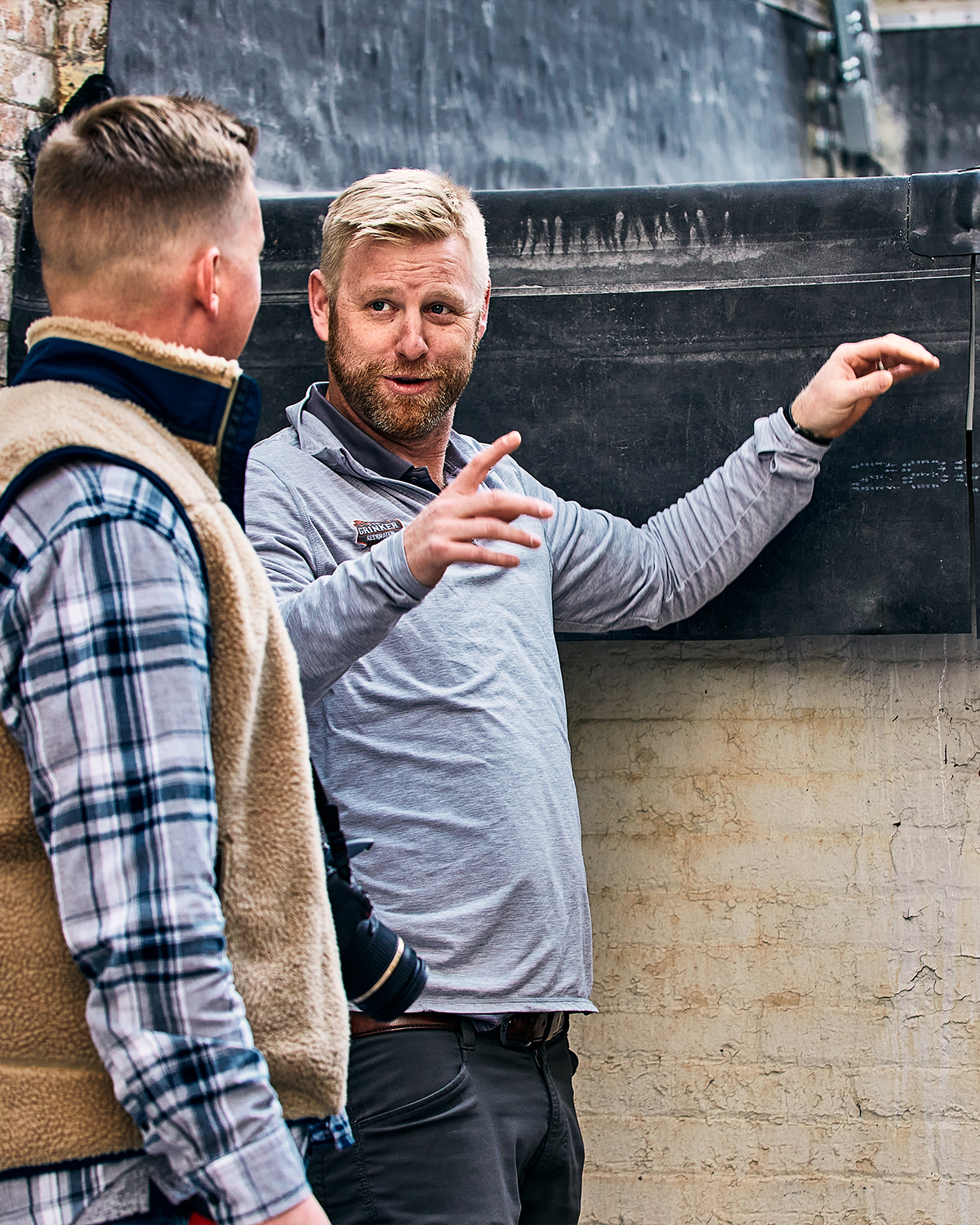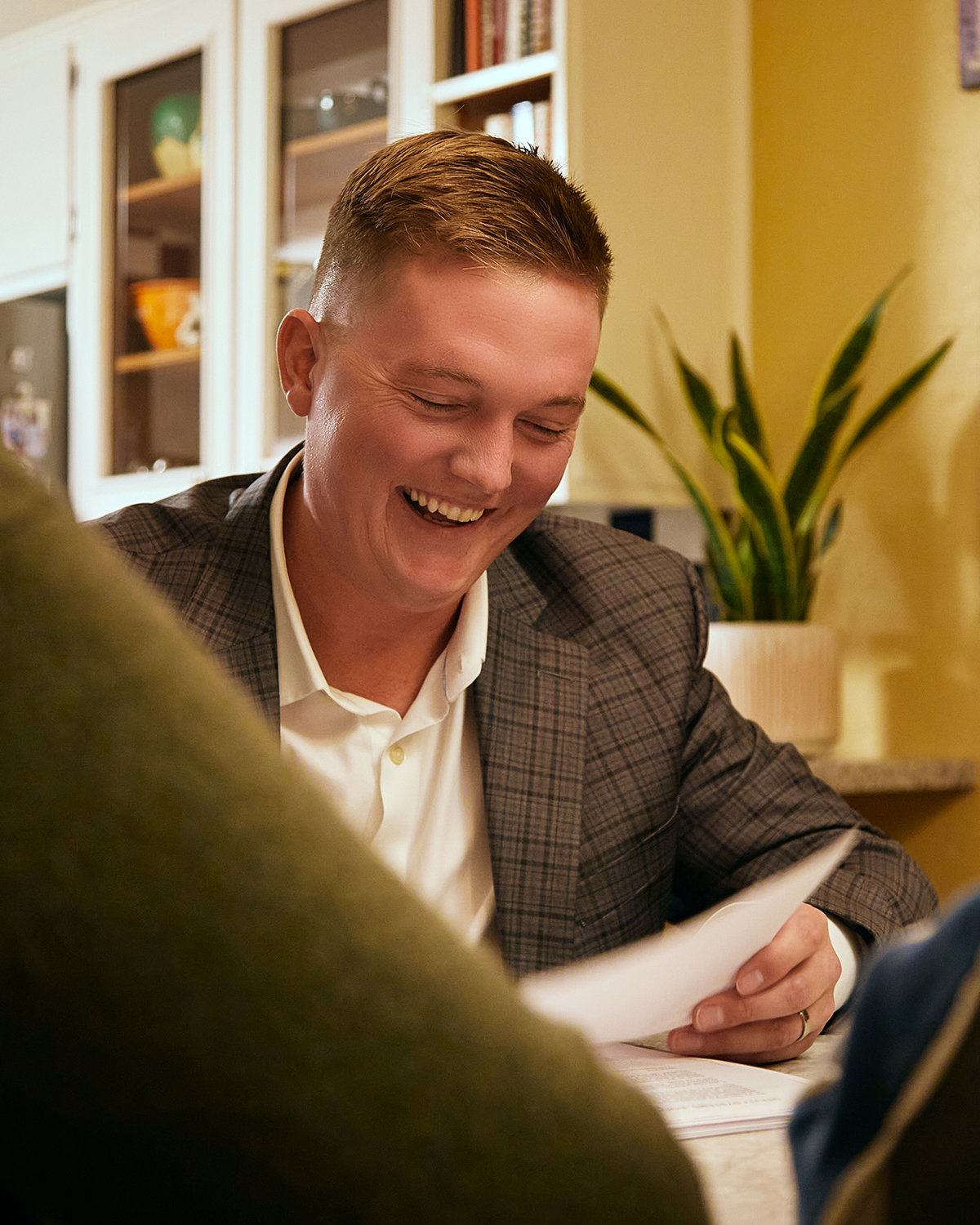 Creating an online experience




Designed to deliver peace of mind during a time when it seems impossible.



One of the primary goals for the Morgan Ryan website was to create a customer experience that would help quickly educate and alleviate the stress of the unknown. For most of their customers, this is not a recurring life event, so the time is chaotic and a leading factor in that is not knowing what they need to do. We developed their site with this in mind, by creating a knowledge center with some actionable info, mapping out Morgan Ryan's claim process, and making it easy to contact a claim expert.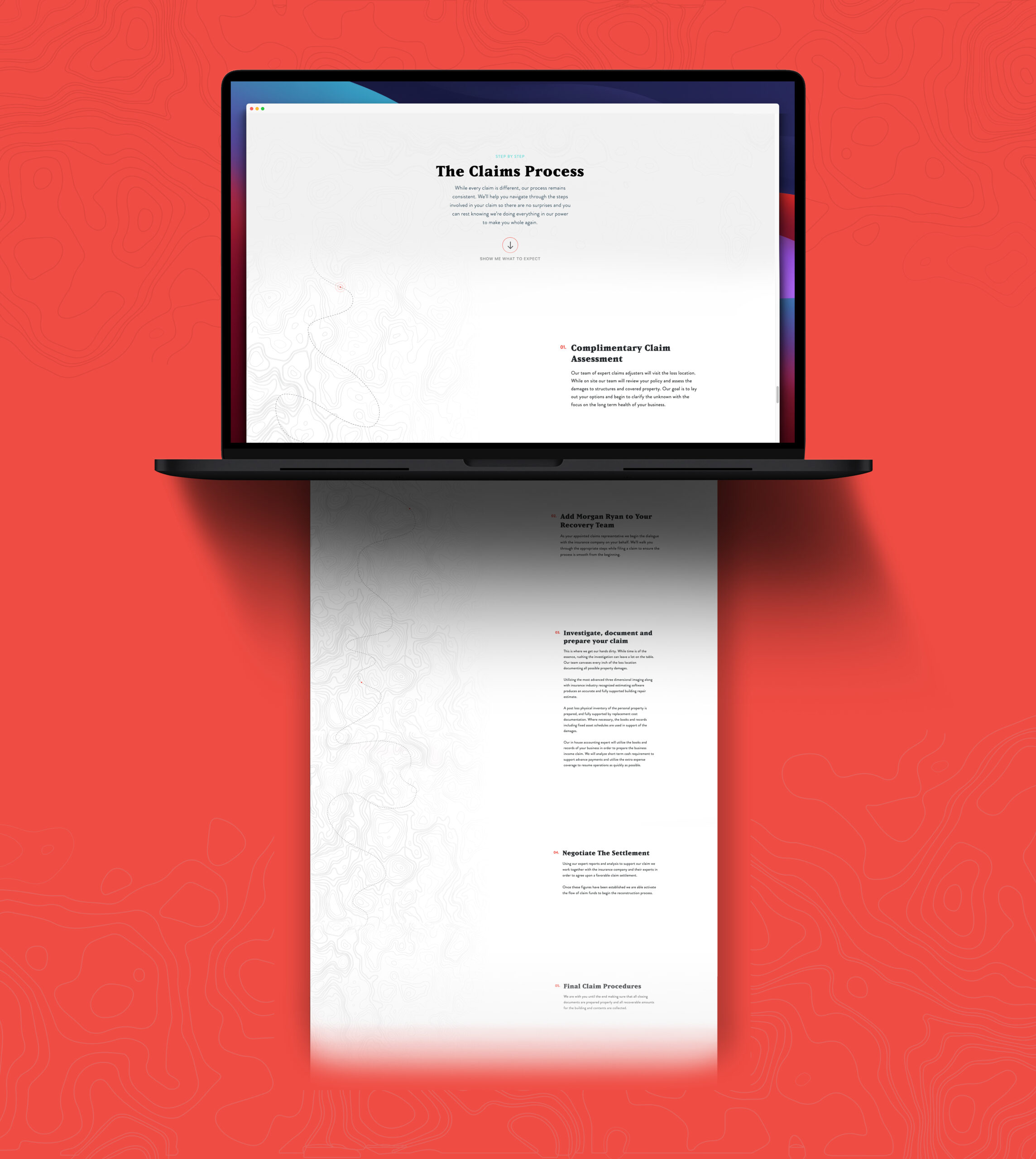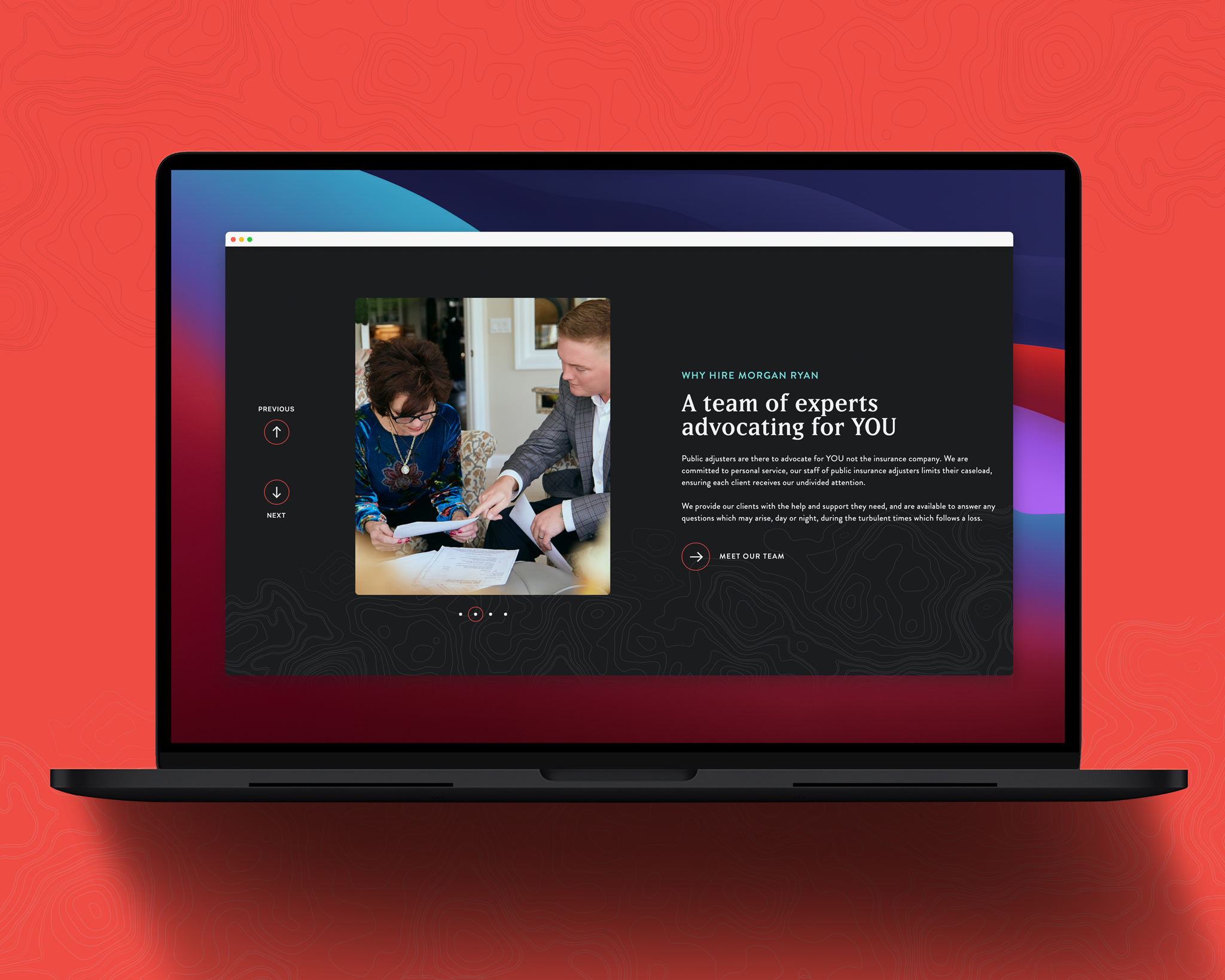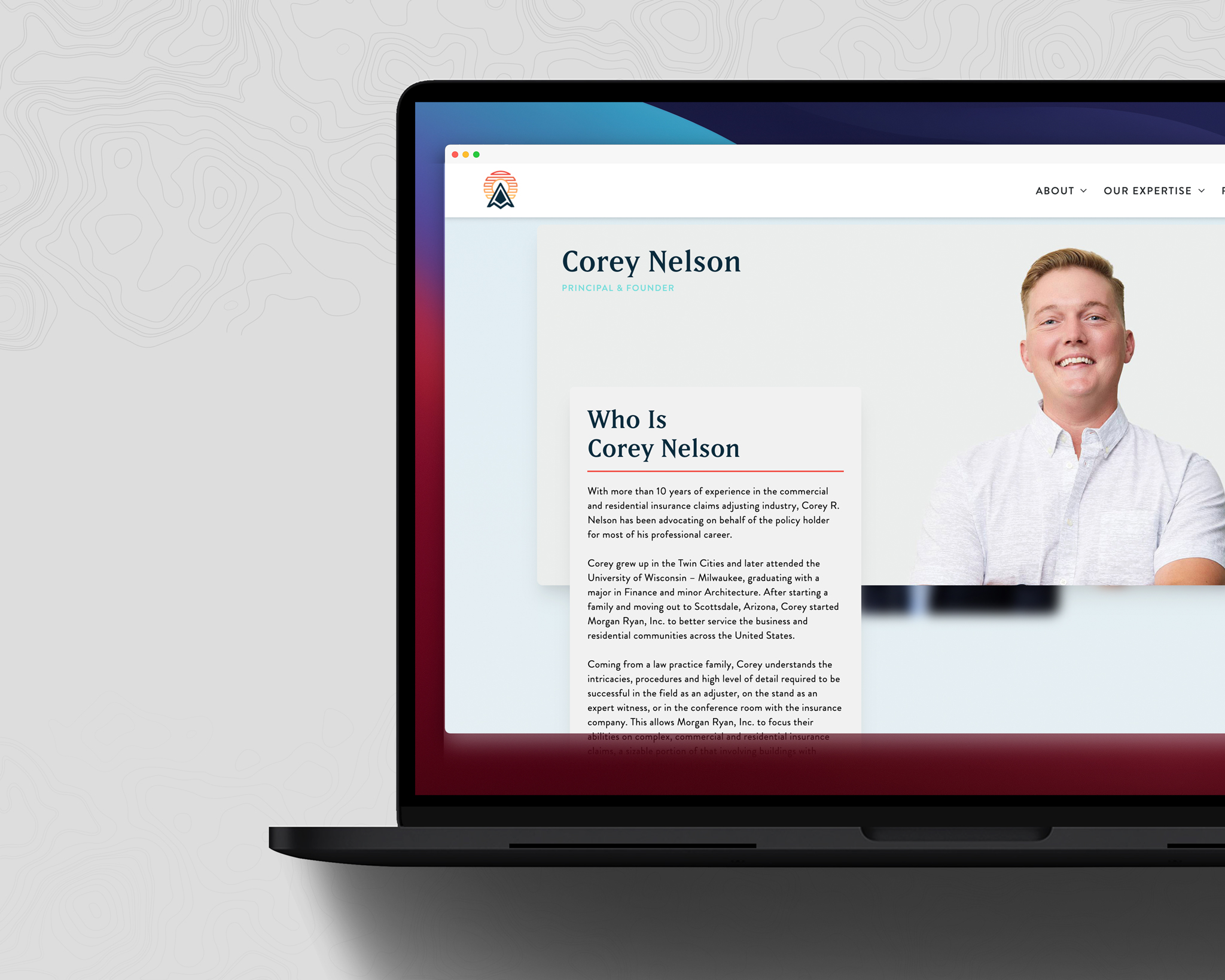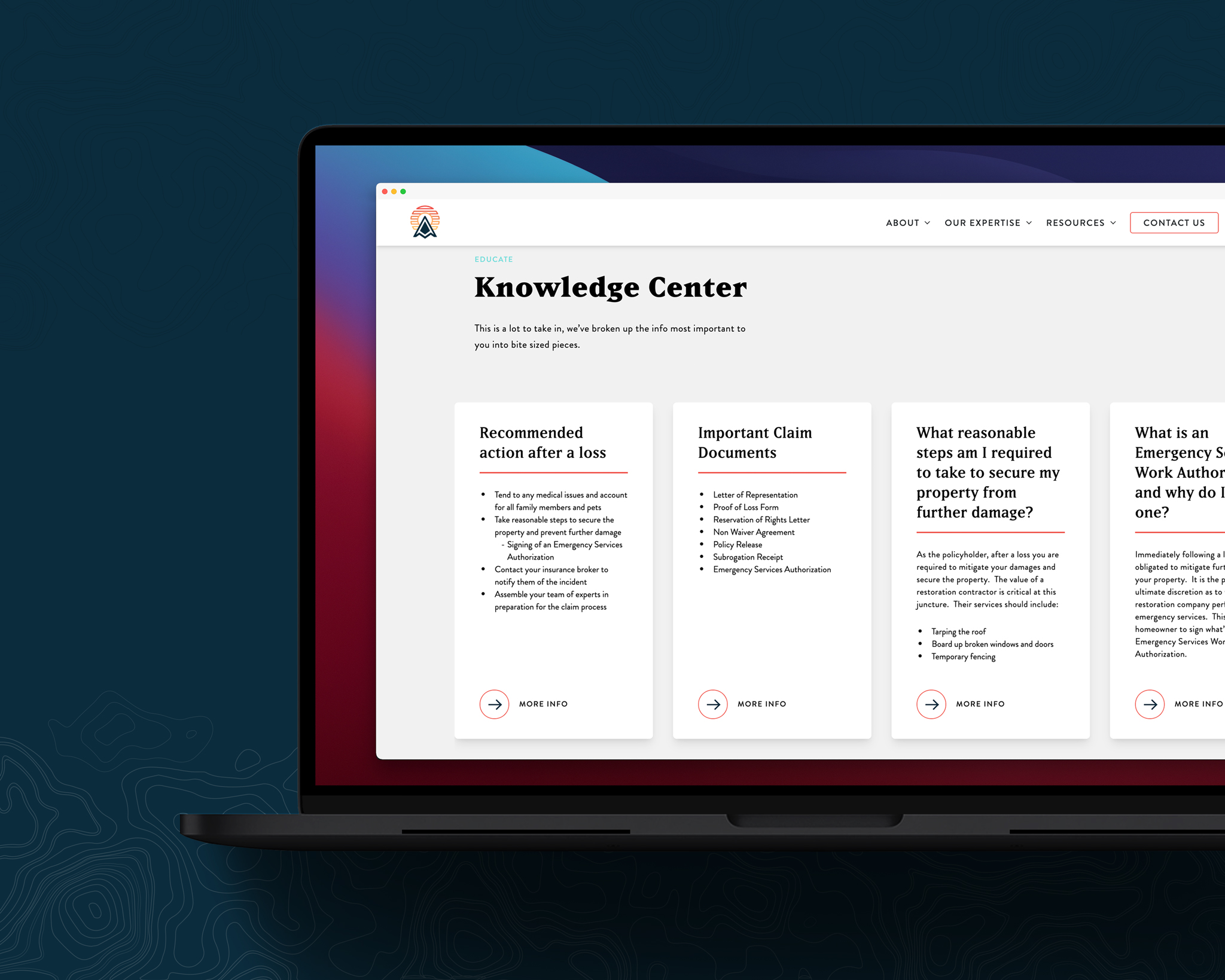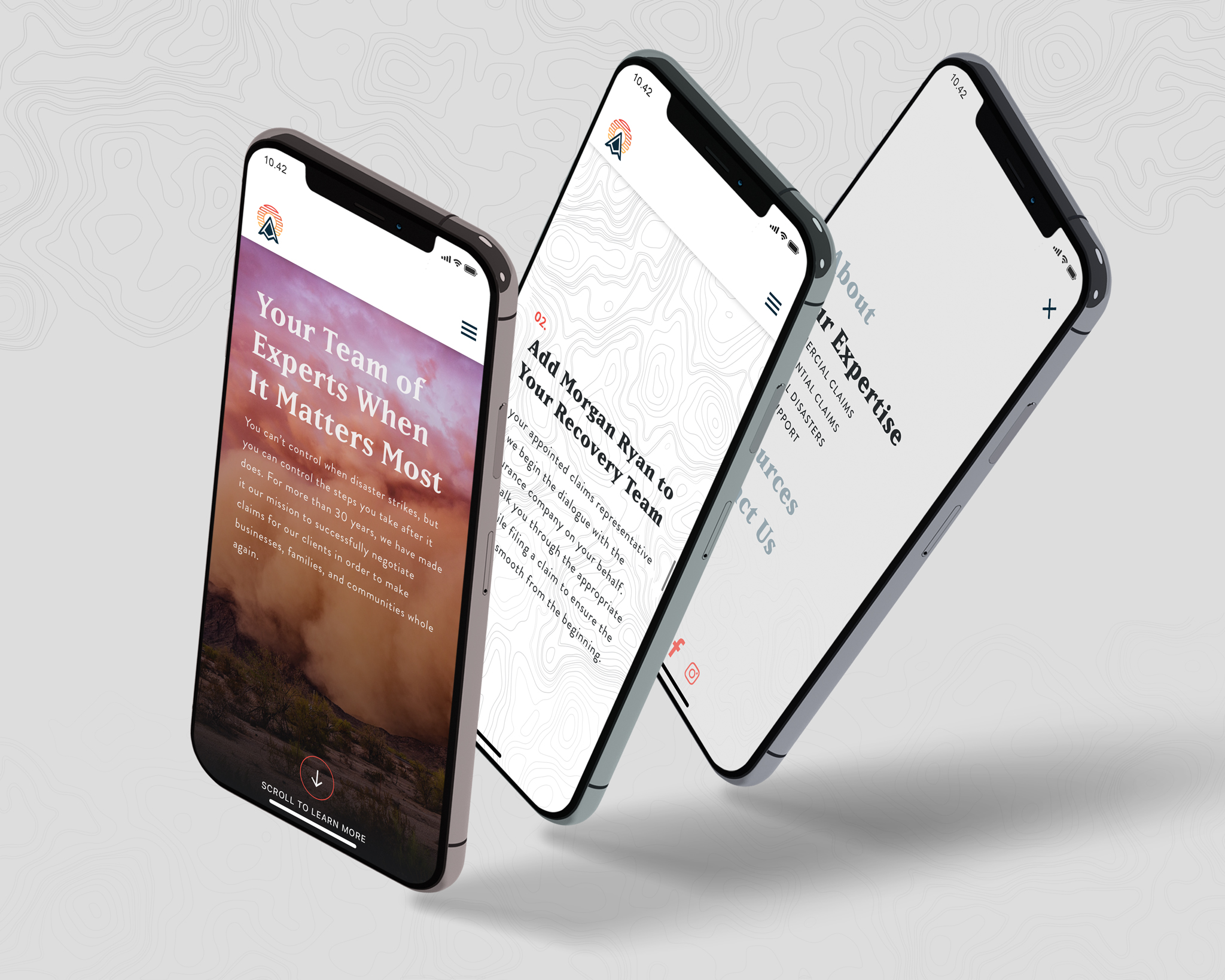 The Design Process




Mapping user flows for optimal customer experience



When determining user flows it's important to visualize all of the potential paths a user might take when visiting your site. You can help guide them by the layout of your content, site copy, site wide navigation, and visual hierarchy.
The majority of people coming to the Morgan Ryan website will be in some state of chaos or confusion due to the many unknowns that are presented to them during a claim. We structured the Morgan Ryan site as a knowledge center and roadmap to lay out everything customers will need to know and make it easy to contact a claim expert. One of the ways we designed the site to help guide users to the content they need was to break the information into easy self-identifiable knowledge centers based on the type of claim they might be experiencing.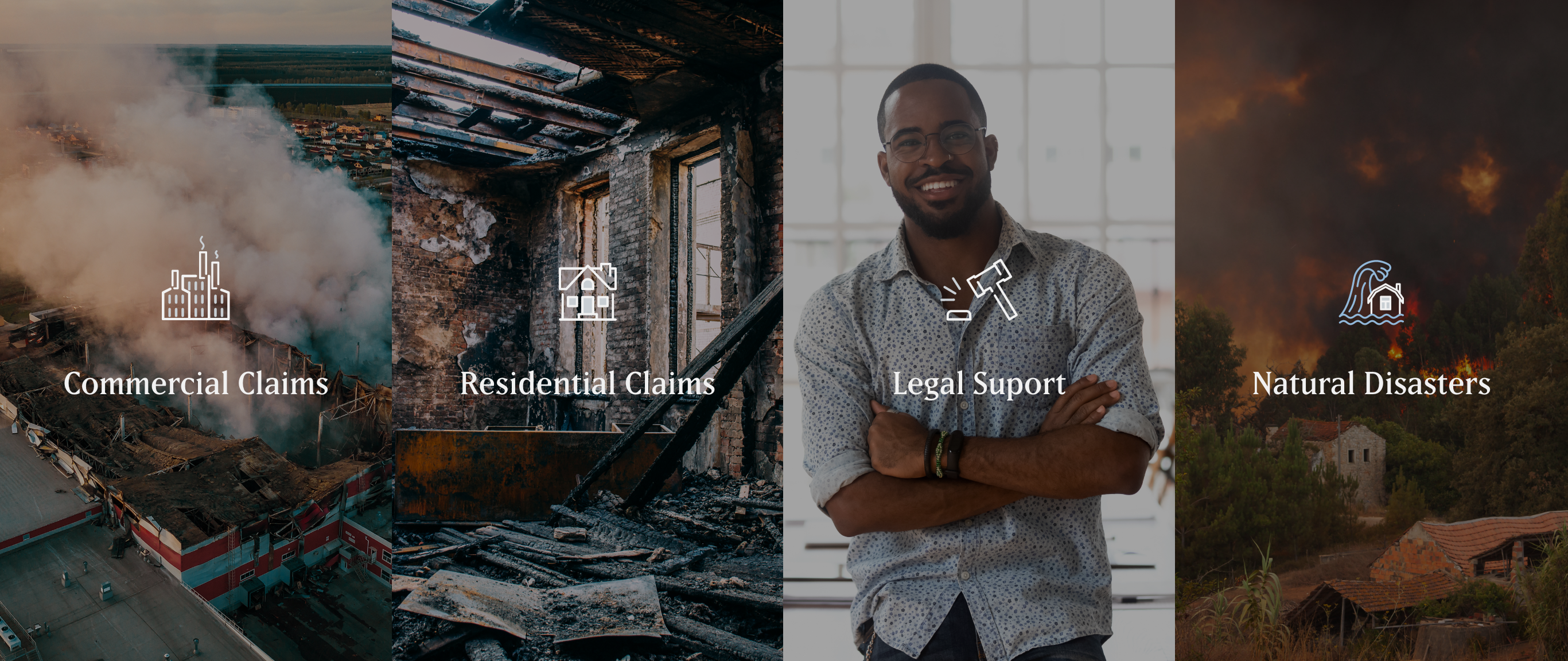 Showcasing past success to provide future hope




A picture's worth a thousand words, but a happy customer talking about you is worth a lot more.



As a sales tool and way to build brand trust, testimonials are at the top of the list. Video testimonials or as we deemed them "Success Stories" go even further, and give people hope during a dark and chaotic time that they WILL find peace again. This is why we were adamant about capturing a few happy customers while we were on location in Milwaukee, WI shooting all of our content for the site. We displayed these prominently on the new site alongside a large selection of written testimonials from other satisfied Morgan Ryan clients.
Lifestyle + Corporate Photography




Visual representation of the brand.



Working through a devestating event such as a claim is visually captivating. There's the event itself, the wreckage aftermath, the emotions of those involved. But, there's also the other side of the hill, when you have a team of experts working for you, the sun rises, businesses and lives restored. Or as we labeled them, the success stories. We captured all of this, through photography and videography to showcase the entire process for Morgan Ryan.
We developed a creative content strategy so we knew what we needed for all customer touch points, including the website, print collateral, social media, and a library for future content needs.