What you need to know about Threads – a Twitter alternative from Instagram
It happened, millions of social media managers woke up in a state of utter chaos as Meta launched Threads, a direct competitor to Twitter, on Wednesday, July 5.
Details about Threads
What is it? Threads is a text-based social media app for iPhone and Android users available in 100 countries currently. At the end of the first day, the app had acquired 55 million users. Threads is currently not available in the European Union. This is due to strict privacy regulations in the EU. 
How can you sign up? Users can sign up quickly and easily with their Instagram accounts with a direct import of their bio and info. Users may also download the app directly from the IOS app store and Google Play Store. 
What can be posted on Threads? Posts on Threads may include text up to 500 characters, photos, videos up to 5 minutes in length, as well as links.
Similarities with Twitter.  Currently, most of the app's features mimic that of their direct competitor Twitter's, though Instagram users may rejoice that the interface design will remain similar to what they are used to on IG.
Can you advertise on Threads? Currently, there is no ads platform available on Threads, though it's only a matter of time until media placements will be available through Meta Business Suite.
What is the Fediverse? During the signup process, you might have noticed something new, "The Fediverse – Future versions of Threads will work with the Fediverse, a new type of social media network that allows people to follow and interact with each other on different platforms, like Mastodon." So what is the Fediverse? It is a decentralized social networking protocol that allows information to flow between social media platforms and other services. Time will tell if this protocol is successful, and what that means for users' privacy as well as other social apps integrating, but users may soon find themselves communicating across multiple platforms with ease.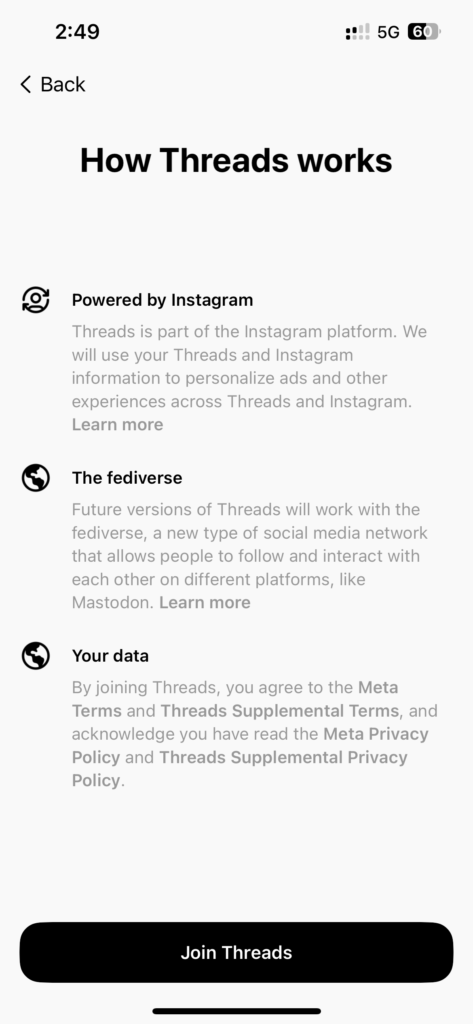 Key Takeaway 
With a potential user base in the multibillions, and Twitter in the midst of chaos, Meta has potentially found the perfect opportunity to capitalize on the text-based social media space. While advertising on Threads is inevitable, we expect Meta to wait until acquiring a critical mass of users before serving ads on the platform. Large brands are already joining the platform and seem to be enjoying the free space to roam and explore the new platform. Lastly, this is a critical moment for brands to jump on a new platform and take advantage of the opportunity to build a presence early and gain a bit of platform market share ahead of their competitors.