How to Create and Effectively Distribute Pillar Content
Your content marketing strategy is the blueprint that supports your customer's journey from brand introduction through brand adoption. Now, actually executing the content strategy will require you to dedicate time and effort into creating your first piece of pillar content.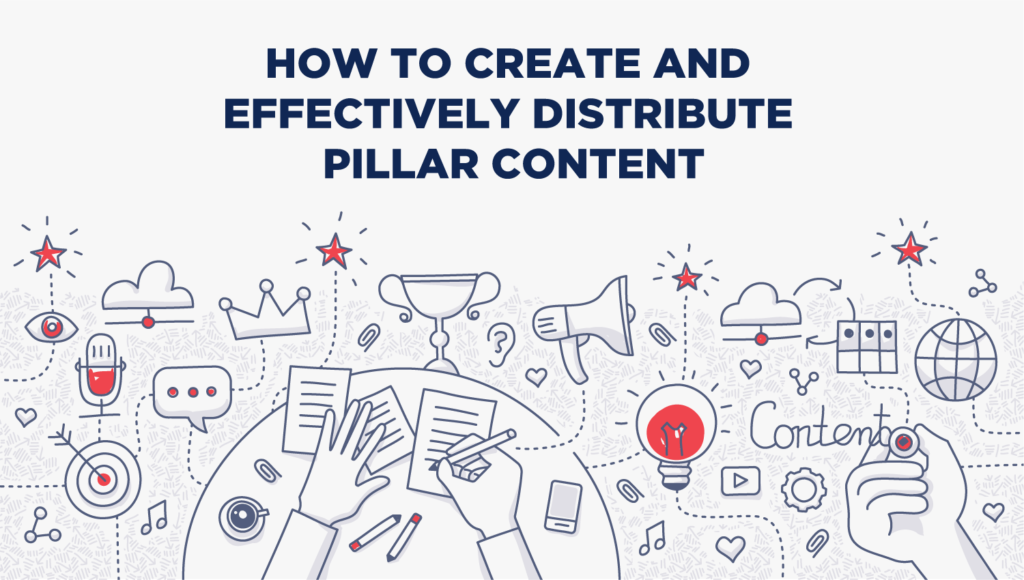 Pillar content, also known as cornerstone content, is a large piece of content that gets broken down into bite-size pieces and distributed through your networks to bring your customers back to the larger piece of content.
In this article, we'll dive into how to create your first piece of pillar content and talk about how to effectively distribute it across multiple platforms.
Pillar content considerations
When you're brainstorming ideas for pillar content, consider where it will be distributed. How should it look on different platforms? How will it look on Facebook versus Instagram? Could it be adapted into a Youtube video and then a podcast? The key to a successful piece of pillar content is to utilize each individual platform to its full potential.
For example, you don't want to put all of this hard work into a written article and post a screenshot on Snapchat. Linking a bunch of words on Snapchat creates a poor customer experience because that consumer is in a highly visual mindset. Instead, if it needs to be distributed into a platform like Snapchat, think of how the blog could be recreated into an animation of quotes or tips from the article, then link out to the full post. Understanding up front where the content will be distributed will guide the development of your pillar content.
Facebook
The Facebook algorithm favors embedded videos because it's proven to keep consumers on the platform for longer. Write a blog? This of how this blog can be adapted to a short 1-2 minute video.
If video isn't suitable, creating simple but powerful images will grab the consumer's attention. Just remember to put the link in the body copy of the post and use a full-size image to maximize news feed real estate.
Directly shared links are at the bottom of the totem pole because often it doesn't look like it's original content. However, if you make sure that the preview image is captivating and the copy is genuinely informative, it can work in a pinch.
Instagram
Instagram is all about the visuals. Like Facebook, videos are more valuable than static images. But, if your images are natural looking, as if one of your customer's friends posted the image, you're going to catch their attention.
Once you've caught their attention, you need to link back to your pillar content. Don't put the link in the body copy. Instagram doesn't allow clickable links in the copy so you'll want to bring them to your profile to click the link. A simple "Link in Bio" is common Instagram nomenclature and will work just fine. This opens the door to more of what you have to offer.
Don't forget about Instagram Stories! These are great for in-the-moment content. Once you reach 10,000 followers you'll be able to add the "swipe up" function to your stories allowing viewers a direct link to your content.
LinkedIn
LinkedIn is an excellent distribution network for deep-dive articles. Especially if they are industry or service related. I always recommend that when posting to LinkedIn, businesses directly tag people in their network and ask for feedback in a constructive manner. As long as you avoid spamming people, this is an effective tool to kick start a conversation.
Always remember though, speak and act professionally when you're on LinkedIn. No one likes a Sour Sally on a platform where encouragement and growth are the North Star.
Twitter
Twitter is a perfect place to overshare a single piece of content since the feed moves so fast. It's common to share an article 8-10 times across Twitter. Something you'd never do on another platform!
Each time you reshare, utilize several different hashtags so it hits different networks. It's also good to include an image to occupy more real estate in the timeline.
Lastly, shorten your links. Twitter no longer counts the characters of a link but in a world where everything is short and sweet, it'll be easier for people to get the info they need in a clean and simple way.
Youtube
Creativity plays a big role for YouTube since you'll often be taking a written piece of content and converting it to a video format. Though, it can be as simple as you reading through your article in an audiobook style format.
Things that work great on YouTube are larger thought pieces that people can tune into and listen to as they continue to work.
On the other hand, if your article is "5 Small Business SEO Tips", it just won't work well in video format since it will require constant stops and starts.
Podcast
A quick hack to expanding on the YouTube method is exporting the audio from YouTube and uploading as a standalone podcast. Stitcher, Apple, and TuneIn are all great free podcast platforms.
To take this one step further. Let's imagine your pillar content is a long-form blog article. At the top of the blog article, you could embed the YouTube narration and also a separate link to the Podcast. This gives your audience an excellent way to choose how they want to consume your content.
You can't take a blog on your morning drive but you can take audio!
The juice is worth the squeeze
Pillar content may seem like a lot of extra work. But, it's no longer "build it and they will come." It's now "build it and bring it directly to the people" through well-developed pieces of content designed to be natively distributed within the target audience's social feed.
Not only do consumers have specific expectations, but they are also naturally more in tune and quick to scrutinize a brand who's "missing it" when it comes to their social distribution strategy. On top of that, social media algorithms all have a unique science which drives well-optimized content to the top and poorly designed content to the bottom.
So, If you commit the time to create a strong piece of content, it only makes sense to maximize its chances of success by optimizing the distribution strategy. If you nail it, it will pay off for a very long time.