How to Keep Your Business Healthy During the COVID-19 Slowdown
You may have noticed we're in the middle of a rather crazy event at the moment. Due to current circumstances with COVID-19 a.k.a the Coronavirus, many if not most businesses are forced to implement a work from home policy. Not only that, but it is encouraged we all self-quarantine and limit going out as much as possible.
Since we're all working from home right now, to make life easier we've created a Work From Home Checklist for Success. Implement these life hacks while you tackle this ever-changing business situation
As a small business owner, I'm sure you're feeling the effects of this shutdown. Meetings canceled, jobs postponed, holding off on spending additional money, nobody out and about shopping for luxury items, and just limiting human to human contact as much as possible.
The big question, what can you as a business owner do during this slow time that will keep you, your employees and your business healthy? And, is there a way to come out of this situation ahead of where you are now??
So, what you came for… 10 things you can do during the Coronavirus slow time.
1. Take a step back, breath and assess.
Take a step back, pull yourself out of the panic and take a look at your surroundings. This may seem arbitrary but the best thing you can do in a stressful situation is to stay calm and take in as much info about what's going on around you. Then, pick your head up and find a way to adapt to the situation. That could either be pivoting your business offering, cutting unnecessary costs or putting your head down and hustling through this situation.
2. Cut unnecessary costs… Not your people.
It goes without saying, less overhead means less financial stress. Anything you can do to cut out unnecessary costs during times of financial instability is smart. Here's a list of common costs you might be able to cut from your business without affecting the quality of your work.
Software – If it's a make your life easier, not mission-critical software, pause your subscription for the time being.
Rent – We're all working remotely, for the time being, paying for an office you can't work in is a huge financial downer. Reach out to your landlord and let them know what type of position you're experiencing. You may be able to defer payments to the end of your lease or a reduction in rent to get you past this difficult time. Can your business operate fully remotely? It might be the perfect time to look into getting rid of a physical office space entirely.
Additional office expenses – You can momentarily pause or cancel office phone, wifi, water, food delivery, etc. We're all working from home if you're not using it, lose it!
Subcontractors – Are you able to lower your monthly retainer with any existing subcontractors? Are there any not essential to the ongoing business? It might be time to renegotiate where possible.
Advertising costs – Have you subscribed to any business directories or professional organizations that aren't providing value during the current situation? It's time to cut those out of your budget. They'll be there when the dust settles. Either repurpose those advertising dollars towards building awareness and authority or put them in the bank for future use.
These are just some of the examples that you can do to eliminate costs to your business immediately. Since we are unsure of how long COVID-19 may last, be cautious about which costs you cut and when. If it only lasts 30 days, you're going to wish you didn't cut certain costs. If it lasts longer than 90 days, reassess your situation and make the necessary adaptations.
3. Don't stop marketing… adjust your message.
Now is not the time to stop advertising. Your messaging needs to be adjusted no doubt, but shutting down all campaigns is not the way to go. This might seem like a scary, large risk to take when business and the fate of the economy is unknown. But, trust us when we say this, continuing your digital marketing will be extremely advantageous. Here are a few points to consider when making this decision.
More people are home now than ever, a lot of them off work and spending much more time on their phones. This means more eyeballs on your ads.
The competition is taking its foot off the gas leaving you with more market share.
When the dust settles, everyone is going to be screaming for attention. Being a consistent voice in the market now will give you the advantage over everyone reentering the market post-COVID-19.
With all that being said, there are a few things you need to make sure you need to adjust for and monitor before you post anything.
Don't push hard for sales. Money is tight for a lot of people but that doesn't mean you can't work on building authority and awareness.
Double-check your messaging and tone. Speak to your audience with more empathy and sincerity. We're all going through this together. How can your product improve your customers' lives during COVID-19?
4. Make sure your business can be found online.
This should always be a priority and right now everyone is home searching the internet for solutions to their problems. Hopefully, you've found a way to offer your services virtually, if not make that your first priority then come back to this step! There are a few things you can focus on to make sure you show up when someone is searching for one of the solutions you offer.
Set up your Google My Business Page. Check out this useful article we've written on this subject! GMB is a great tool for building your online reputation. It's also a great way to keep your audience updated, which is especially useful during uncertain times like we're going through currently.
Work on your SEO. This is something we prioritize for any new client. Developing a solid SEO strategy is important for long term success. Not only can it provide you with free organic traffic, but with a proper content strategy (see our next point) you have a ton of new landing pages to drive paid traffic to as you establish yourself as an expert in your field.
Run a Google Paid Search (PPC) campaign. It's no secret SEO is a long term strategy, and a properly executed SEO campaign can take 60-90 or even 120 days depending on the industry to see real results. If you don't want to wait to see your SEO efforts take effect, consider running a Google Paid Search campaign for the specific keywords and phrases you want to be found for. It's never a bad idea to use both as part of your overall digital marketing strategy anyways.
5. Work on your content strategy.
With a lot of day to day work either being postponed or slowing down, it's the perfect time to either improve upon or develop your content marketing strategy from scratch. Content marketing is one of the greatest ways to improve your SEO and build a relationship between your company and your ideal customers.
5.5. Plan & execute your content calendar.
Following up on our previous point, now that you've developed your content strategy, it's time to plan and produce a content calendar to execute upon that strategy. We use Notion for our content calendar and it has worked really well.
6. Maintain/reconnect with your network
It should go without saying that keeping your relationships healthy is the lifeblood of a successful business. There's no time like the present to reach out to current/past clients or follow up with any prospects you've been speaking with. You should take this one step further and start putting together a list of any prospects you'd like to worth with in the future and reach out to them too!
Regarding COVID-19; be proactive and share important information with your customers via email, your website, or social channels. Let them know the extra steps you've taken to keep them and your employees safe during this time. Along with this, let them know if there will be any delays or interruptions in business. At the Tigrett Agency, we've moved all of our team meetings online using awesome tools such as Zoom, Slack, and Notion. Luckily we use these tools on a daily basis so it's been an easy transition to working from home, but if you or your team are unfamiliar, there are tons of guides on how to integrate them into your daily routine. Notion has even come up with a page specific to Remote Work!
7. Build a pandemic proof brand.
Is your brand pandemic proof? What does that mean? Look at the businesses still receiving support from their community. These businesses have a strong brand presence and many brand advocates. People are choosing to support these brands during tough times because they have a strong connection with them.
While we believe you should always be working on your brand, if you haven't already now is a great time to start. The steps you implement today to create and expand on consumer relationships will go a long way after the dust has settled.
Brands should be turning away from tasteless sales messaging and instead embrace the opportunity for brand building. In order to build and preserve trust with consumers, it's imperative to take a look at all marketing initiatives, examine tone and voice and immediately cut out anything that may come off even remotely insensitive.
Right now is when communication is more important than ever. Don't shut down and go dark. Be a voice for hope and leadership in your community and show that your brand is valuable when the times are tough. The brands that are doing it right, focusing on helping their community are the ones that will see a new wave of brand love.
Some additional things you can do to work on your brand during this time:
Update your strategy – right now we're all adapting to the current economic climate. This means adjusting everything from our marketing strategy to our brand messaging. Campaigns that applied before are now obsolete. Now is the time to make the necessary adjustments to your brand strategy to maintain relevance and customer loyalty.
Work on your positioning – How does your brand currently fit within the new market? Are you able to offer anything different that will change your overall positioning and usefulness to your customers?
Invest in a full rebrand – There's never a perfect time to rebrand, but if you're looking to be proactive about building a trustworthy brand, and your previous brand identity doesn't match your current and future brand purpose, now is the time to make the change. A new identity system, messaging, website, and fresh collateral will give you the edge you need to cut above the noise when everyone returns to the buy, buy, buy mentality.
Update and/or rebuild your website – Depending on your business you might have new case studies you can add to your existing website. It's also a great time to add a ton of new content (See the previous point). Maybe your website looks like it's from before Y2K. If that's the case a full redesign is a great route to take. It gives you the opportunity to work your UX (user experience) and UI simultaneously with a fresh website strategy. This is much more ideal than trying to build around a pre-existing site.
8. Pivot your business to online sales.
Right now is the time to start thinking outside the box. The health of your business depends on your ability to adapt to the current situation and build safeguards against future recessions.
Take a guess which businesses are still operating and growing right now. If you guessed those who have pivoted their sales and products to online you're a smart cookie (or you read the headline 😉 ). Not only is it easier to scale a business that utilizes online sales, but well, you can still operate during a pandemic where in-person human interaction is limited.
If you don't have a website, now is definitely the time to invest in one and start generating sales online.
Gyms and personal trainers should be creating at-home workouts for your clients as quickly as possible. Use free services like Facebook/Instagram Live or YouTube to host online classes or post workouts directly to your website! Or maybe you're a golf professional or other skill-based instructor. Now is the perfect time to develop a digital product. Provide video lessons for your audience, or offer one on one virtual coaching. Offer a mix of free valuable content and paid higher-level content. You still need to make money!
Local restaurants and bars should immediately implement online orders and free curbside pickup options through their website and other online food ordering apps. If you have the manpower, we'd highly recommend offering free no contact delivery as well. This type of customer service will not be forgotten when things go back to normal.
If your business, unfortunately, falls into a category where it can not continue to operate until the quarantine has been lifted, consider creating a gift card. Something people can buy now at a discounted price to utilize in the future when business is back to normal. We implemented a gift card with our client Blok Photo Studio allowing customers to buy bulk studio time in advance. This was a great addition to their product offering because it allows them to increase their sales without the limitation of available studio times while also improving cash flow. Customers benefit as well due to the discount they receive buying studio time in bulk. Consider implementing a similar digital product with your own business!
If you need help with this, contact us and we can help your company adapt to the current situation while planning for the future!
9. Look after your personal health.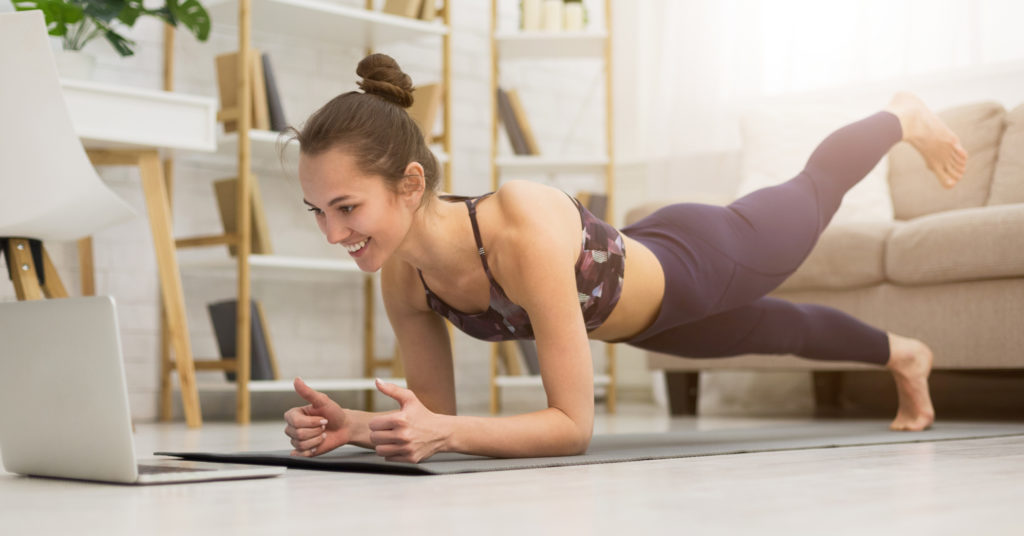 At the end of the day, it doesn't matter how healthy your business is if those who lead it aren't well enough to keep it running. Working from home sounds great until you have no other options. A lot of us have kids, pets, spouses and a million household tasks coming at us from all angles when we work from home.
The best thing you can do to stay sane during this time is to stay as active as you can. While it's not the easiest to do when gyms are closed, there are plenty of bodyweight routines you can do. Check your gym or personal trainer for free online classes as well! Staying active will help keep your mood positive and energy levels up. Pair this with healthy eating, (don't eat all your quarantine provisions at once) and you give your self the greatest chance for successfully coming out of this time with your sanity intact. Plus nobody wants to gain the quarantine-15!
10. Host an online event.
Speaking from the stage is a great way to build your business. Unfortunately, almost all events have been postponed or canceled altogether. Even if you didn't already have something planned, reach out to your customer base and see who would be interested in attending a live webinar. This can be done via our favorite Zoom but is also possible via Facebook or Instagram Live. Speaking is a great way to grow your audience and build industry authority. Many businesses use webinars and speaking events as part of their marketing funnel.
---
Lastly, it's important to stay up to date with this ever-changing situation. So please keep yourself and your employees safe and informed.
Stay up to date by following credible, official sources like the Centers for Disease Control and Prevention (CDC), World Health Organization (WHO) as well as your local government health department.
---
We hope this list was beneficial to you and will help keep your business afloat during the uncertainty the Coronavirus has brought upon us. If you need help implementing any of these tactics don't hesitate to give us a call! Stay positive and healthy, this will pass and you'll be stronger for it!